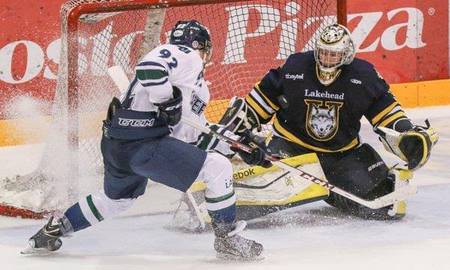 Sat Nov 07, 2015
Lakeheads offensive woes continued as the Thunderwolves were edged 2-1 by the Nipissing Lakers in front of 2126 fans at the Fort William Gardens Saturday night.
The game started off with a quick pace and physical play on both sides, and that trend continued throughout the night.
After a scoreless first period, Nipissing got on the board at 5:35 of the second when Jacob McDowell crashed the net and slid the puck under Wolves netminder Jeff Bosch just as they posts came off the moorings, but the officials decided the goal counted.
The Lakers extended their lead to 2-0 on the power play after Guillaume Naud deflected a shot from the point past Bosch at 8:17.
Lakehead called a timeout to regroup and it worked almost immediately as Carson Dubchak pounced on a rebound from Luke Maw and fired the puck behind Nipissing goalie Domenic Graham just 18 seconds later. Cody Alcock was also credited with an assist.
Both goaltenders played well but Bosch looked especially sharp, making more than a few big saves to keep the Wolves in the hunt.
Lakeheads attempt to rally in the third period hit a roadblock when the Thunderwolves were called for too many men on the ice with under two minutes remaining.
The Wolves pulled Bosch for an extra skater late in the game and Tyler Kunz made a diving save to prevent Nipissing from extending its lead, but the Lakers held on to take the win.
Shots on goal for the night were 40-30 in favor of Nipissing.
The Molson Three Stars of the game were:
1. Jeff Bosch, Lakehead
2. Domenic Graham, Nipissing
3. Cody Alcock, Lakehead
The loss drops Lakeheads record to 0-7-1 in the OUA and to 2-9-2 overall.
The Wolves will hit the road for a pair of games with the Western Mustangs in London next Thursday and Friday nights.