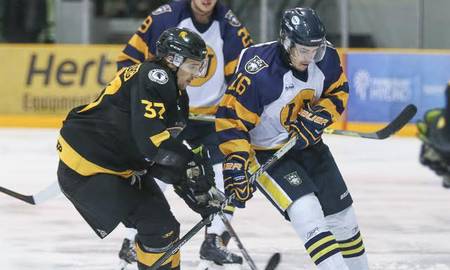 Sat Jan 30, 2016
The Lakehead Thunderwolves had to rally for the second night in a row, but this time their efforts fell just short as they were edged 5-4 by the Waterloo Warriors in front of 2112 fans at the Fort William Gardens on Saturday night.
Both goalies Devin Green for Lakehead and Mike Morrison for Waterloo were tested early but nothing got past either of them in a scoreless first period.
The offensive floodgates opened early in the second, ignited by a short-handed goal by Lakeheads Kelin Ainsworth when he broke in alone on Morrison and deked him with a backhander 40 seconds into the period.
Waterloos Mike Moffat evened the score just over a minute later with a hard shot from the face-off circle that beat Green low on the glove side.
Stephen Silas gave the Warriors the lead by finishing off a nice tic-tac-toe play while Waterloo held the man-advantage at 11:40, and then Matt Amadio and Colin Behenna added two more goals a minute apart to put the Warriors up by three with just under five minutes remaining in the period.
Justin Seftonnarrowed the gap to 4-2 with a power play goal at 17:06 after the Wolves defenceman jumped into the play to create an odd-man situation that he capitalized on, with assists going to Sam Schutt and Carson Dubchak.
The Wolves drew to within a goal at the seven-minute mark of the third period when Matt Alexander rifled the puck past Morrison on the blocker side after receiving a nice feed from David Quesnele, with Luke Maw also getting a helper.
Silas got his secondtally of the night at the 12:11 mark to put Waterloo up 5-3, but Lakehead didnt quit.
With the Wolves already on a power play, Green was pulled for an extra attacker and the move paid off when Carson Dubchak fired a one-timer past Morrison with one minute left on the clock to narrow the gap to 5-4. Ainsworth and Jake Ringuette were credited with the assists.
Lakehead continued to apply the pressure and the Wolves were buzzing around the Waterloo net, but just couldnt convert and the Warriors held on to take the win.
Total shots on goal for the night were 41-31 for Waterloo.
The Molson three stars of the game were:
1.Colin Behenna, Waterloo
2.Kelin Ainsworth, Lakehead
3.Stephen Silas, Waterloo
The loss drops the Wolves OUA record to 6-14-4 (10-16-5 overall) and makes their four remaining regular season games all must-wins in order to keep their playoff hopes alive.
Lakehead will go on the road next weekend for atwo-game serieswith the Guelph Gryphons.