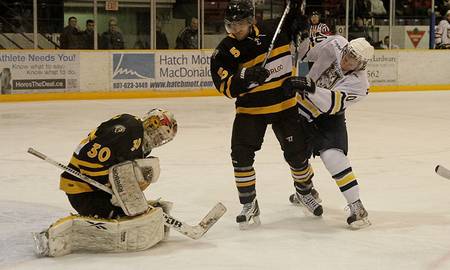 Sat Feb 16, 2013
The Lakehead Thunderwolves lost 4-2 to the Waterloo Warriors Friday night in game #2 of the OUA West Division quarter-finals in front of 2658 fans at the Fort William Gardens in Thunder Bay, and were swept out of the playoffs in two games straight.
Lakehead was in control of the play from the get-go, but it was Waterloo that got on the board first at 9:35 of the opening period when defenceman Joe Underwood put a harmless looking wrister on net that eluded Wolves goaltender Alex Dupuis.
Warrior forward Andy Smith added two more goals in the first period, including a hard and high shot that he placed over Dupuis shoulder to give Waterloo a 3-0 lead at the 16:08 mark. That would spell the end of Dupuis night, as he was replaced by Jeff Bosch in the Lakehead goal for the second game in a row.
The Wolves came out strong in the second period, and Luke Judson went to the net hard and put a rebound past Waterloo goalie Keaton Hartigan to cut Waterloos lead to 3-1 less than a minute into the middle frame. Mike Hammond and Adam Sergerie were credited with the assists.
Jeff Bosch made some timely saves throughout the period, including a huge stop on Warrior forward Justin Larson on the doorstep.
In the third period, Luke Judson struck again for Lakehead by going to the net hard and banging home a loose puck to narrow Waterloos lead to 3-2 at the 3:51 mark. Assists on the goal went once again to Sergerie and Hammond.
Lakehead pressed hard all period, completely outplaying the Warriors and outshot them 46-21 in the game. But the Wolves couldnt get another puck past Hartigan, who was sensational in the Waterloo goal.
The Molson 3 Stars of the game were:
1. Keaton Hartigan, Waterloo
2. Luke Judson, Lakehead
3. Mike Hammond, Lakehead
The loss marks the second time in three years that the Wolves have been knocked out in the opening round of the playoffs, both times at the hands of the Waterloo Warriors.