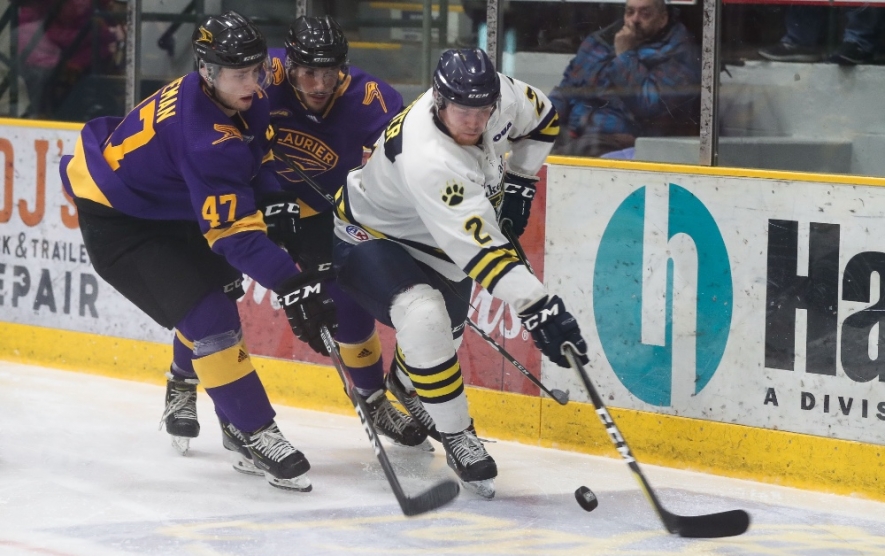 Sat Nov 23, 2019
The Lakehead Thunderwolves finished their final weekend of play before the fall exam break by falling 6-3 to the Laurier Golden Hawks at the Fort William Gardens on Saturday.
After splitting the weekend's games with the Hawks the Thunderwolves now have a record of 7-7-2, while Laurier has improved to 4-9-2.
The Hawks got themselves onto the board first, thanks to a goal by Matt McJannet and extended their lead late in the first thanks to a goal from Anthony Conti.
The Thunderwolves power play continued to find success in Saturday's game, as defenceman Patrick Murphy scored the Thunderwolves' first goal with just seconds left in Laurier's first penalty of the game.
The second period saw the Hawks reclaim their two-goal lead early on, but shortly cut down as Thunderwolves Tomas Soustal and Daniel Del Paggio took off on a two-on-one. Soustal earned his eighth goal of the year on the play.
With a minute left the play in the middle frame, Thunderwolves freshman forward Brendan Martin tied the game with his first goal with the Thunderwolves. Jordan King was assigned the lone assist on the Thunderwolves' final goal of the night.
The Golden Hawks scored two quick goals halfway through the final period to reclaim the lead and sealed the deal with an empty-net goal with just under two minutes left in the game.
The Thunderwolves will be back in action at the end of December when they host the Nipissing Lakers.