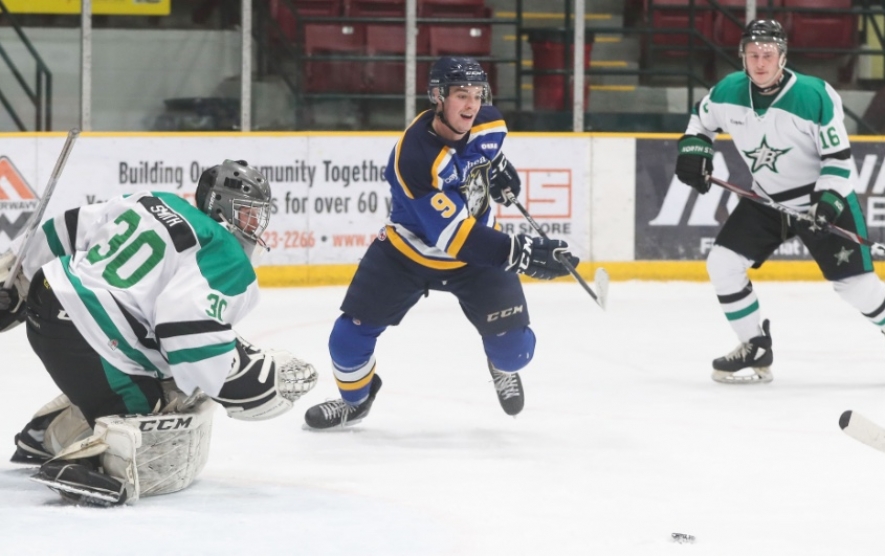 Mon Dec 30, 2019
Sixty minutes wasn't enough time to solve anything during the Lakehead Thunderwolves Monday night matchup against the Thunder Bay North Stars, who took the game 3-2 in the shootout.
After the Thunderwolves defeated the North Stars 5-1 on Sunday night, there were a couple of noticeable line-up changes made.
Lakehead's Daniel Del Paggio, Tomas Soustal, Jordan King, Joseph Leonidas, Patrick Murphy and Aaron Wesley-Chisel all dressed for the North Stars, while Cooper Leitch, Daniel McKitrick, Caleb Boman, Brett Wolframe and Brock Aiken all returned to the Thunderwolves.
The Northstars opened up the scoring of Monday night's game with a goal from Del Paggio, then opened up the scoring of the second period with a goal from North Stars forward Jacob Brown.
Freshman Geoff Dempster took advantage of the traffic in front of the North Stars net to tie things up for the Thunderwolves in the first, while sophomore Daniel McKitrick redirected a pass from Dexter Kuczek to even the score early in the second.
Both goalies were brick walls in the net during the third period, forcing the game into overtime. Despite a few good chances on both sides of the ice, the netminders didn't allow anything to get past them in extra minutes either.
North Stars goaltender Jordan Smith stopped all three Thunderwolves goals in the shootout, with shots coming from Brendan Martin, Josh Laframboise and Kyler Auger.
Forward Jacob Anttonen shot first for the North Stars and went bar down on Thunderwolves goaltender Brock Aiken, scoring the only goal of the shootout. The other two shooters for the North Stars were forwards Jacob Brown and Cody Bruchkowski.
The Thunderwolves will be back in action in the new year as they travel to Guelph to kick off the second half of the OUA season against the Guelph Gryphons on January 3 at 2:00 pm and January 4 at 7:30 pm. Fans can catch the games on OUA.tv.