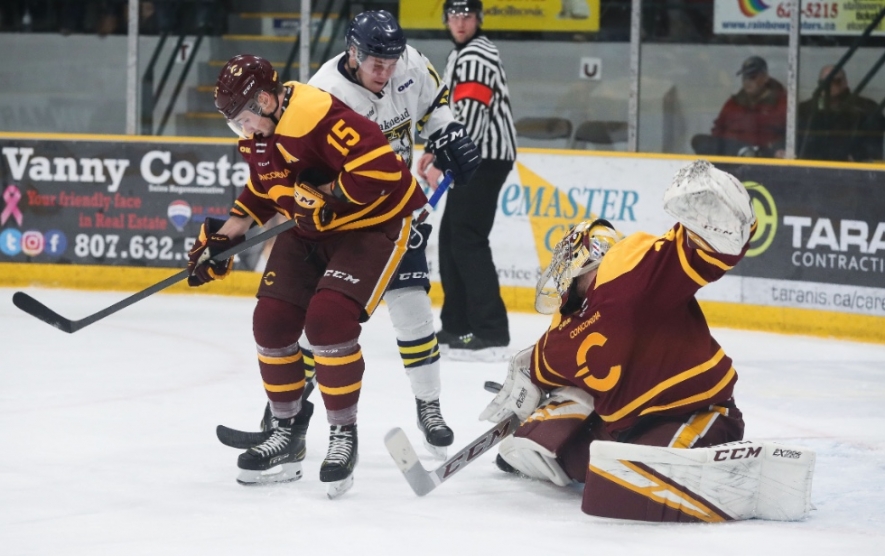 Sat Nov 09, 2019
The Lakehead Thunderwolves defeated the Concordia Stingers 5-4 in overtime to collect all four points Saturday night at the Fort William Gardens.
The Stingers were first on the board after Colin Grannary went five-hole on Thunderwolves goaltender Nic Renyard.
The lead didn't last long as Thunderwolves sophomore forward Josh Laframboise knocked in a rebound to tie the game less than two minutes later.
Less than two minutes after Laframboise's goal, the Stingers took back the lead and the Thunderwolves finished the first period down by one.
The second period saw three Lakehead goals. Thunderwolves sophomore Jordan King buried junior Daniel Del Paggio's rebound to tie the game 2-2.
Thunderwolves third-year business major Scott Gall scored his second goal of the season 33 seconds after Stinger Marshall Wilton scored to keep the game tied, now 3-3.
Not long after, the Thunderwolves were given their first power-play opportunity of the night and freshman defenceman Kyle Auger made sure to capitalize with a one-timer from the blue line, giving Lakehead their first lead of the night.
The Thunderwolves held the lead for most of the third period until Concordia's Chase Harwell buried a rebound with just over five minutes to go to tie the game and force overtime.
Lakehead started and finished overtime with Tomas Soustal, Del Paggio and Auger on the ice.
After a collision in front of Concordia's net opened up the ice, Auger walked in and scored his second goal of the game to give the Thunderwolves back-back wins at home.
The Thunderwolves will be on the road for three games next weekend as they face the Waterloo Warriors on Thursday and the Ryerson Rams Friday and Saturday.