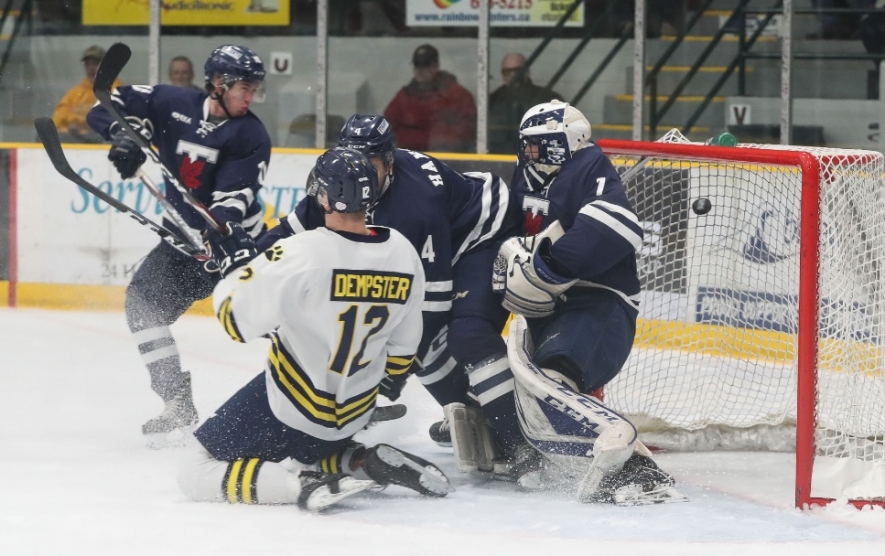 Sat Oct 26, 2019
The Lakehead Thunderwolves Hockey team struggled to hold on to an early lead and fell 3-1 to the Toronto Varsity Blues at the Fort William Gardens on Saturday night.
Just over halfway through the first period Thunderwolves freshman Greg Smith threw the puck at the net, it deflected off the Toronto goaltender and bounced into the back of the net. Smith's unassisted goal put the Thunderwolves up 1-0.
Toronto came out hot in the second period, tying the game just 48 secs in thanks to a goal by forward Oliver Benwell.
Toronto forward Joey Manchurek scored later in the second to put Toronto up by one. David Thomson was credited with the lone assists on both goals.
Toronto's Scott Kirton scored the lone third period goal to give the Varsity Blues the two goal lead.
Thunderwolves goaltender Nic Renyard faced 33 shots, making 30 saves, while Toronto goaltender Alex Bishop faced 31 shots.
The Thunderwolves will have the next weekend off, but will be back in the Gardens on November 8th and 9th when they host the Concordia Stingers.