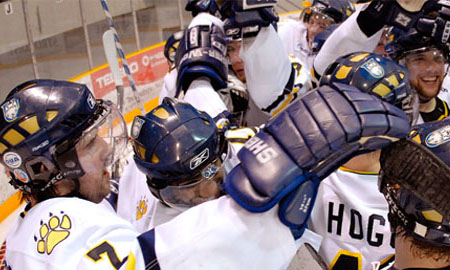 Wed Feb 26, 2003
The No. 4 Lakehead Thunderwolves defeated the No. 2 Western Mustangs 5-2 before 3710 screaming fans at the Fort William Gardens in Thunder Bay Wednesday night. The win gives Lakehead a 1-0 lead in their best-of-three OUA Far West Division Finals.
The Thunderwolves were led by Jeff Richards with a goal and an assist. The other Lakehead markers came from Joel Scherban, Robert Hillier, Jason Lange, and Matt Kenny. Darren Mortier and Jamie Chamberlain scored for the Mustangs.
It was an exciting fast-paced game that gave the fans everything they could want; hard hits, great goaltending, and few penalties. Only five minor penalties were given to Lakehead and three to Western.
Lakehead came out pumped and jumped out to a quick lead at the 48 second mark when Robert Hillier snapped a high shot past Western goaltender Mike D'Alessandro. The assists went to Murray Magill and Mike Jacobsen. D'Alessandro then robbed Lakehead Captain Scherban on the breakaway at 2:40. But, then Scerban made it 2-0 at 3:07 when he beat D'Alessandro up high with a rocket wrist shot from the slot. Western came right back at 5:47 when Jeff Martin, parked behind the Lakehead net, fed a nice pass to Darren Mortier who one-timed it past Lakehead goaltender Grant McCune. D'Alessandro then made a great save off Lakehead's Richards who broke in alone at 17:15. Western applied some pressure in the last two minutes and were rewarded with the tying goal at 18:50 when Jamie Chamberlain deflected a point shot from Tim Zafiris that took a very strange sideways arc over Grant McCune. Lakehead outshot Western 12-9 in the first period.
Lakehead again came out fast at the start of the second. Lakehead's Hillier missed an empty net with D'Alessandro down and out at 1:30. Western's Joe Talbot then took the puck quickly back into the Lakehead zone and launced a rocket that was gloved nicely by Lakehead's McCune. Jason Lange gave the Thunderwolves the lead at 2:32 when he banged in a lovely drop pass from Brad Bartlett through D'Alessandro's pads. Lakehead's Erik Lodge then hit the post at 3:00. Then Matt Kenny gave Lakehead the 4-2 lead at 5:33, after being set up beautifully by Jeff Richards on a 2-on-1 break. Lakehead had the two man advantage between the 10 and 11 minute mark, but couldn't capitalize. Then came the point of controversy in the game at 12:22. Western's Brad Yeo broke in on Lakehead's McCune, made a deke, and slipped the puck between the Lakehead goaltender's legs. But, McCune reached back and grabbed the puck on the line. Yeo argued that it was in but to no avail, and the goal judge's light had not lit. Yeo had another good chance at 16:30 when he took a hard shot that McCune handled with a quick pad save. Western outshot Lakehead 9-8 in the second.
The third period saw Lakehead open on the powerplay and they peppered Western's D'Alessandro but couldn't put the puck past him. Play was fierce from then on, with both teams delivering some solid hits, each trying to gain the advantage. Lakehead goaltender McCune made a great stabbing pad save off a hard slapshot by Western's Jeff Martin at 7:30. Western's Ryan Held then launched one over the net and over a sprawled McCune two minutes later. Lakehead's Shawn Perring took a hard slap shot at 10:00 that trickled through the legs of D'Alessandro stopping right on the line. Nobody knew where it was, then D'Alessandro looked back and scooped up the loose puck. Lakehead's Jeff Adduono then launched a rocket over D'Alessandro at 18:30, after being set up by a lovely pass from Bryan Duce. Western pulled their goalie with a minute left but Lakehead's Richards intercepted a Mustang pass and carried the puck up the ice and potted the empty net goal to end the game. Western outshot Lakehead 7-6 in the third Lakehead outshot Western 26-25 in the game.
Lakehead Head Coach Pete Belliveau said it was an exciting game to be part of. &quot