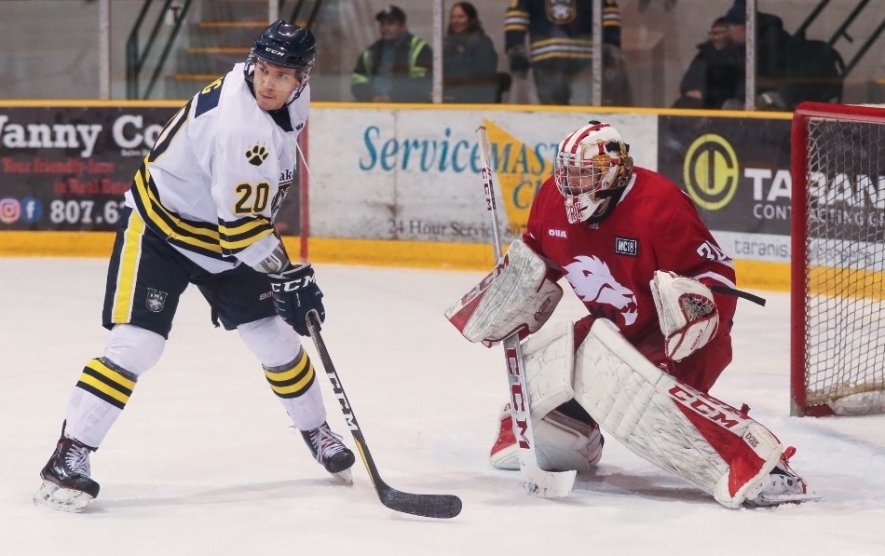 Fri Jan 10, 2020
The Lakehead Thunderwolves picked up the first two points of the weekend, defeating the York Lions 5-2 Friday night in Toronto, ON.
"York came out with a lot of jump in the first, I thought Nic stood tall and we continued to work through it and get better as the period went on scoring two goals to match York's strong start," said head coach Andrew Wilkins.
Thunderwolves sophomore Jordan King opened up scoring during Friday nights game, knocking in a rebound assisted by Tomas Soustal and Daniel Del Paggio. Freshman forward Geoff Dempster extend the Thunderwolves led to 2-0 after capitalizing on a 3 on 1 rush with Josh Laframboise and Troy Williams, who assisted on his goal.
Freshman defenseman Kyle Auger scored the Thunderwolves' third goal of the night just over a minute into the second period, assisted by Brendan Martin and Soustal.
The Lions started to make a comeback in the third period as forwards Nik Coric and Brendan Browne each picked up a goal and an assist, making it a one-point game just halfway through the period.
The Thunderwolves held on, eventually scoring two empty-net goals. Del Paggio's empty-net goal placed him first in Thunderwolves scoring with 27 points, while senior Patrick Murphy's goal secured the Thunderwolves 5-2 win.
"We need better results to start the third especially with puck and game management, which lead to goals against - another opportunity to learn from the situation," said Wilkins.
"I'm pleased with the outcome and our effort in locking the game down."
The Thunderwolves and Lions will face off again Saturday night in Toronto with the puck drop scheduled for 7:15 pm.