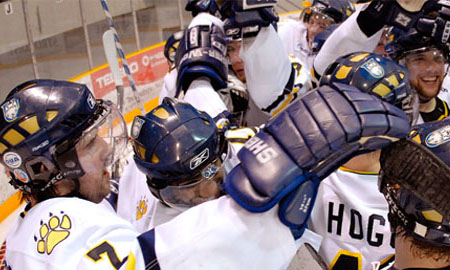 Thu Apr 03, 2003
Lakehead University held its annual Athletic Awards Banquet at the Victoria Inn in Thunder Bay Saturday March 29th to celebrate a year of stunning team and individual success. The season marked some great achievements in LU Sports History.
The Thunderwolves Men's Hockey team qualified for the CIS University Cup National Championships in only their second year as a program. Team Captain Joel Scherban was named MVP while Jeff Richards was Rookie of The Year. Richards was also named Lakehead University's Male Freshman Athlete of the Year. Murray Magill was named Most Improved Player while Hugo Lehoux was given the Best Work Ethic Award.
Lakehead's Canadian University Women's Curling Champion team represented Canada at the World Winter University Games in Tarvisio, Italy and won a silver medal. The Men's basketball team made a great playoff run before finally bowing out to CIS Silver Medallist Guelph. Nordic Skiing and the Indoor Track Team scored consistent great results.
On the individual side, it was a banner year. Basketball star Dan Zapior was an OUA first team All-Star and was also awarded the prestigious TSN-Ken Shields Award for Athletics, Community Service, and Academics. Hockey Captain Joel Scherban was again named OUA first team All-Star and also won the Sportsmanlike Player Award for both the OUA and CIS. Hockey rookie Jeff Richards was named to CIS and OUA All-Rookie Teams. Women's basketball star Robyn Degray was named a first team OUA All-Star and led the country in field goal percentage.
Weight thrower Maureen Watson won OUA Gold as did wrestler Ron Boucher, who was also named OUA MVP. Nordic Skiers Tara Redpath and Kerrie Fabius were OUA and Canadian All-Stars and represented Canada in Tarvisio, Italy. Nordic skier Jeff Seguin was also an OUA All-Star and represented Canada in Tarvisio.
LAKEHEAD UNIVERSITY VARSITY SPORTS AWARDS
ATHLETES OF THE YEAR
Female Freshman Athlete Of The Year -
Loren Howes-Jones (Kitchener, Ont. First Year Outdoor Rec: led OUA in digs in her rookie season)
Male Freshman Athlete Of The Year -
Jeff Richards (Kenora, Ont. First Year General Arts: CIS All-Rookie Team, OUA West Conference Second Team All-Star, OUA West Conference All-Rookie Team, led all CIS rookies in goal scoring)
Female Athlete Of The Year -
Maureen Watson (Vancouver B.C. Third Year Nursing: OUA Weight Throw Champion, 7th in CIS championships)
Male Athlete Of The Year -
Dan Zapior (Thunder Bay, Ont. Fifth Year Businesss: TSN-Ken Shields Award Winner, OUA West First Team All-Star, 3rd in CIS scoring, 8th in rebounds)

Varsity Team Awards
Men's Hockey
Most Valuable Player - Joel Scherban (CIS and OUA Most Sportsmanlike Award, OUA West First Team All-Star, OUA Athlete of the Week)
Rookie Of The Year - Jeff Richards
Most Improved Player - Murray Magill (Thunder Bay, Ont. First Year Kinesiology)
Best Work Ethic Award - Hugo Lehoux (St. Elzear, Que. First Year Business)
Basketball
Men's
1. Rookie Of The Year - Sandy Millar (Thunder Bay, Ont. First Year Kinesiology)
2. Most Improved Player - Aaron Casella (Thunder Bay, Ont. Second Year Visual Arts) & Ryan Bishop (Prince Rupert B.C. First Year Kinesiology)
3. Best Defensive Player - Steve Reid (St. Mary's Ont. Fifth Year Education)
4. Most Valuable Player - Dan Zapior
Women's
1. Rookie Of The Year - Joy Kolic (Thunder Bay, Ont. First Year Kinesiology)
2. Most Improved Player - Kyllie Daniar (Thunder Bay, Ont. First Year History/Kin)
3. Best Defensive Player - Lisa Schermerhorn (