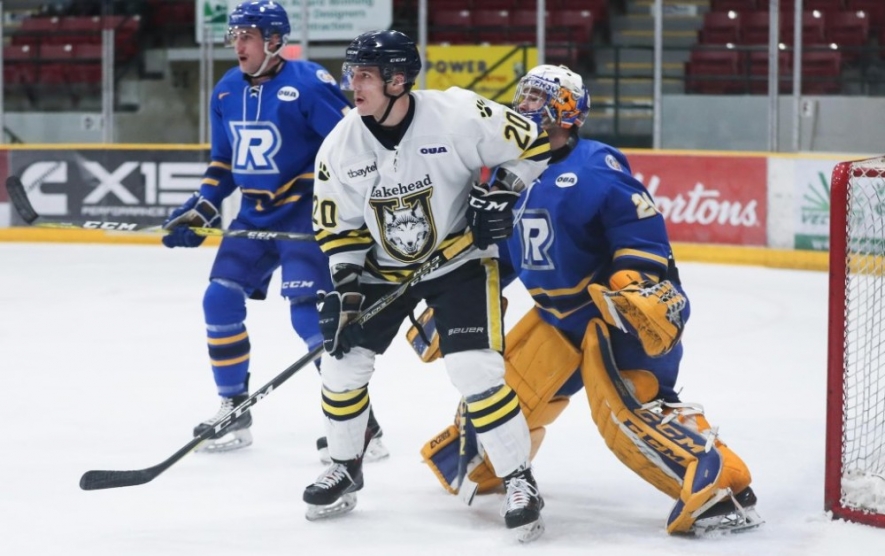 Fri Nov 23, 2018
The Lakehead Thunderwolves were toppled 5-3 by the division-leading Ryerson Rams before a crowd of 1,849 at the Fort William Gardens on Friday night.
Ryerson got on the board with a short-handed goal 1:58 into the game on Gregory DiTomaso's wrister from the high slot that sailed by the glove of Lakehead goalie Nic Renyard.
Three minutes later Matt Mistele, the OUA's leading scorer, converted on a cross-crease pass that Renyard had no chance on to stake the Rams to an early 2-0 lead.
Lakehead's Tomas Soustal narrowed the gap to 2-1 at 12:36 with a wrist shot from the face-off circle that beat Rams' netminder Taylor Dupuis on the blocker side, with Sam Schutt and Joseph Leonidas getting the helpers.
Schutt tied the game by cutting to the front of the net and shoveling a backhander past Dupuis at 4:38 of the second with Dylan Butler and Matt Alexander assisting, but Mistele replied just over a minute later on a Rams' power play to put Ryerson back in front.
John Carpino went five-hole on Renyard 34 seconds into the third to extend the Rams' lead, and Mathew Santos added another midway through the period to put Ryerson up by three.
Cooper Leitch narrowed the gap to 5-3 off a nice set up by Jonathon Masters at 17:43 to round out the scoring.
Total shots on goal in the game were 34-27 in favor of Ryerson.
For the night, the Thunderwolves were 0-for-4 with the man-advantage, while the Rams went 1-for-4.
The Molson Three Stars of the game were:
Matt Mistele, Ryerson
Mathew Santos, Ryerson
Tomas Soustal, Lakehead
The Wolves will look to get back into the win column when they face-off against the Rams again tomorrow night beginning at 7:00 p.m.