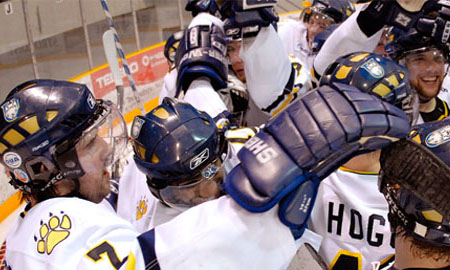 Mon Feb 24, 2003
The No. 4 Lakehead Thunderwolves open their highly anticipated best-of-three OUA Far West Division Final series against the defending CIS national champion No. 2 Western Mustangs on Wednesday at the Fort William Gardens in Thunder Bay.
Lakehead (18-6 conference, 23-10-2 overall) is coming off a 2-0 sweep over Windsor in the divisional semi-finals. Lakehead defeated Windsor by 4-2 and 11-2 scores. Western had a regular season record of 24-0 this season and are unbeaten in two seasons of OUA regular season conference play. They were 26-6-1in overall play.
The two teams will take to the ice in Thunder Bay at 7:30 before an expected sell-out crowd. Game Two will be at the Thompson Arena on the Western Campus in London on Saturday night at 7:30, while the third game will also be in London on Sunday night at 7:30, if necessary.
Lakehead Head Coach Pete Belliveau said his team is looking forward to its second playoff battle with the Mustangs. "This is our series of the year, we are playing the National Champions who are undefeated again this season. Fans are going to see a great series between two excellent hockey teams. I think that this series will come down to goaltending, specialty teams and discipline. Let the games begin!"
Western Head Coach Clarke Singer said his team expects a strong challenge from their divisional rivals. "We are obviously looking forward to a great series. Despite Lakehead only being in our division for two years, we have developed a very heated rivalry. They are extremely well coached, play with a tremendous amount of heart, and with the addition of Duce, Lange, Richards and Jacobsen, have as much skill as any team in the country. When you look at the schedule Lakehead has played and the Top 10 teams they have beaten, I am sure that many people see us as the underdog, especially with the series starting in Thunder Bay."
Lakehead fans in Thunder Bay can listen to the second and third games in London live on 580 CKPR AM with CKPR Sports Director Bryan Wyatt calling the play-by-play beginning at 7:20 EST Saturday, and 7:20 EST Sunday if necessary. CIS hockey fans across Canada can listen via the internet for the games in London on www.ckpr.com.
Series History:
These will be the 12th, 13th and possibly 14th meetings between the two teams. Western is 10-1 against Lakehead, outscoring them 56-17. Western eliminated Lakehead two games to one in last year's exciting divisional finals.
Previous Meetings:
Jan. 25, 2003. Lakehead 4 @ Western 5 (Loss)
Jan. 24, 2003. Lakehead 2 @ Western 9 (Loss)
Oct. 20, 2002. Western 1 @ Lakehead 0 (Forfeit Loss)
Oct. 19, 2002. Western 1 @ Lakehead 0 (Forfeit)
March 2, 2002. Wolves 1 @ Western 5 (Loss)
March 1, 2002. Wolves 3 @ Western 4 (Loss)
February 26, 2002. Western 3 @ Wolves 4 (Win)
January 19, 2002: Western 5 @ Wolves 1 (Loss)
January 18, 2002: Western 8 @ Wolves 1 (Loss)
October 20, 2001: Wolves 2 @ Western 8 (Loss)
October 19, 2001: Wolves 2 @ Western 7 (Loss)
Series Notes:
- Lakehead has 125 goals for and 64 against in the regular season while Western has 135 goals for and 40 against.
- Lakehead's leading scorers in the regular season were Jeff Richards (23 goals and 15 assists for 38points), Bryan Duce (14 goals and 24 assists for 38 points), Joel Scherban (11 goals and 24 assist for 35 points), Chris Shaffer (19 goals and 12 assists for 31 points), and Jason Lange (10 goals and 16 assists for 26 points).
- Western's leading scorers were Joe Talbot (15 goals and 23 assists for 38 points), Brad Yeo (14 goals and 21 assists for 35 points), and Justin Davis (9 goals and 23 assists for 31 points).
- Lakehead goaltender Grant McCune had a 14-4 regular season rec