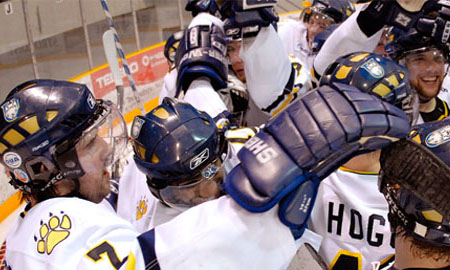 Wed Mar 19, 2003
The Thunderwolves go into the University Cup with an OUA regular season record of 18-6 and an overall record of 28-11-2. Lakehead opens the University Cup on Thursday when they take on Queen's Cup Champion UQTR at 6:00 P.M. EST at the Aitken University Centre in Fredericton. Their next game will Saturday against UNB if they beat UQTR, or Friday against UNB if they lose to UQTR.
Lakehead qualified by defeating Toronto 6-5 in the Queen's Cup Bronze medal game to earn the OUA's third berth. Lakehead swept both Windsor and defending CIS Champions Western in the OUA Far West playoffs. Lakehead was fourth in the OUA in goals for with 125 and fourth in goals against with 64. Lakehead's lethal powerplay led the OUA and its penalty kill unit was second in the conference. This is Lakehead's first appearance at the University Cup.
Head Coach Pete Belliveau said the team is looking forward to participating in the quest for Canadian university hockey's most historic cup. "This CIS Championship is shaping up to be an excellent event for the teams, the fans, and the people of Fredericton. The organizers have put on a showcase event for all of Canada to see. We are extremely excited to be playing in this event and this next week will make memories for a lifetime for all involved!"

Coach Belliveau knows that the opposition in Pool A presents quite a challenge for his young team. "UNB is the deepest team in the tournament, they have great leadership behind the bench and in the dressing room. They can roll four great lines and six excellent defensemen and they have tremendous speed and passing skills. UQTR is extremely fast with big, mobile defense and they've been in the Final the last two years. Tremblay and Pare are deadly in the offensive zone and their goaltender Dallaire is excellent."
Lakehead vs. University Cup Opposition 2002-2003 (Record: 4-3-1)
Mar. 8, 2003 York 4 Lakehead 1
Nov. 2, 2002: York 3 Lakehead 0
Nov. 1, 2002: Lakehead 5 York 2
Sat Jan 4 Alberta 2 Lakehead 2 NC TIE OT
Fri Jan 3 Lakehead 5 Alberta 2 NC
Fri Dec 27 StFX 5 Lakehead 3 NC
Oct. 13, 2002: Lakehead 4 UQTR 2 NC
Oct. 12, 2002: Lakehead 4 UQTR 0 NC
Lakehead Players To Watch:
The Thunderwolves are led by OUA All-Stars Joel Scherban, Jeff Richards, and Chris Shaffer. The speedy Richards led all OUA rookies in goals and points and all CIS rookies in goals. Bryan Duce, Jason Lange, and Robert Hillier are also dangerous scorers. Goaltender Grant McCune was instrumental in defeating Western and can win big games.
Thunderwolves fans can catch all the action live with CKPR Sports Director Bryan Wyatt on 580 CKPR AM radio in Thunder Bay, and across Canada on the internet at www.ckpr.com beginning at 5:30 EST on Thursday.

Player Honours:
2002-2003:
Joel Scherban:
1) OUA West First Team All-Star
2) OUA West Most Sportsmanlike Player Award
Chris Shaffer:
OUA West Second Team All-Star
Jeff Richards:
1) OUA West Second Team All-Star
2) OUA West All-Rookie Team
Lakehead 2002-2003 Results:
Playoffs:
Sat Mar 1 Lakehead 2 Western 1
Wed Feb 26 Lakehead 5 Western 2
Fri Feb 21 Lakehead 11 Windsor 2
Wed Feb 19 Lakehead 4 Windsor 2
Regular Season:
Sat Feb 15 Lakehead 6 Windsor 3
Fri Feb 14 Lakehead 5 Windsor 2
Sun Feb 9 Lakehead 9 Brock 2
Fri Feb 7 Lakehead 10 Brock 3
Sun Feb 2 Guelph 6 Lakehead 5
Sat Feb 1 Lakehead 6 Guelph 3
Sat Jan 25 Western 5 Lakehead 4
Fri Jan 24 Western 9 Lakehead 2
Sat Jan 18 Lakehead 5 Water