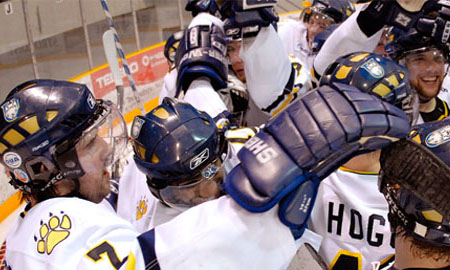 Mon Mar 17, 2003
The No. 6 Saint Francis Xavier X-Men qualified for the University Cup by gaining the second AUS berth after losing the AUS Finals to U-Cup hosts UNB. StFX comes in with a regular season record of 14-9-2-3 and an overall record of 21-19-12. StFX was fifth in the AUS in goals for with 98 and second in goals against with 90.
Head Coach Danny Flynn said his team is very proud to be back at the Nationals. "We're very happy to be back for our second time in three years. The AUS is so fiercely competitive that we're very honoured, and we will do our best, to represent such a great league and our school.
Coach Flynn also said StFX will face tough opponents in his pool. "Whoever you draw in this calibre of a tournament is a great team. We know Alberta is a powerhouse, and we'll have to bring our best game to compete with them. And Coach Wise at York has a very hardworking and disciplined team that's had a great year."

StFX Players To Watch:
The X-Men are led by Team Captain and AUS All-Star Patrick Grandmaitre. Todd Norman and Ryan Walsh are also dangerous scorers. Omar Ennaffati is a tough player who can also generate offense. Goaltender David Haun was third in the AUS with a GAA of 2.77.
For the StFX roster, click here.
StFX vs. University Cup Opposition 2002-2003 (Record: 5-4)
Mar 9 UNB 4 StFX 3
Mar 8 UNB 5 StFX 3
Mar 6 StFX 4 UNB 2
Mar 5 UNB 3 StFX 1
Jan 31 UNB 3 StFX 2
Jan 24 StFX 5 UNB 4
Dec 27 StFX 5 Lakehead 3 NC
Nov 8 StFX 4 UNB 2
Nov 1 StFX 4 UNB 3
Historical Highlights:
- Conference Titles: 23
HEAD COACH - DANNY FLYNN
Flynn enters his eighth season at the helm of the X-MEN, most recently having led them to the CIAU national Final in 2001. A 19979 graduate of Styx, Flynn has gone on to make a significant mark in the coaching field.
A five year stint with the the OHL's Soo Greyhounds ('90-"95) saw him combine with NHL Coach of the Year Ted Nolan to help the Soo to four first place finishes and a trip to three consecutive Memorial Cups, capturing the Memorial Cup in 1993. He has also had the honour to represent our country six times, capturing a World Under 18 Title in 1992, a World Junior title in 1994, a bronze medal at the World Championships in 1995, a Spengler Cup victory in 1997 and a victory at the NCAA/CIAU Challenge in 1999. Danny also hold the unique distinction of begin the only certified CHA Level IV coach in Atlantic Canada.
Danny also works as a part-time scout for the Los Angeles Kings covering the Maritimes with focus on the University and Major junior.
ASSISTANT COACH - GREG MacDONALD
StFX 2002-2003 Results:
Sun Mar 9 UNB 4 StFX 3 PL conf f
Sat Mar 8 UNB 5 StFX 3 PL conf f
Thu Mar 6 StFX 4 UNB 2 PL conf f
Wed Mar 5 UNB 3 StFX 1 PL conf f
Sun Mar 2 StFX 6 Dalhousie 4 PL conf sf
Fri Feb 28 StFX 3 Dalhousie 1 PL conf sf
Wed Feb 26 Dalhousie 4 StFX 0 PL conf sf
Fri Feb 21 StFX 4 UPEI 3 PL conf qf
Wed Feb 19 StFX 3 UPEI 0 PL conf qf
Sat Feb 15 StFX 8 Acadia 4
Wed Feb 12 Saint Mary's 3 StFX 1
Sat Feb 8 StFX 5 Saint Mary's 1
Wed Feb 5 Dalhousie 3 StFX 2 OL
Sat Feb 1 StFX 3 Moncton 1
Fri Jan 31 UNB 3 StFX 2 OL
Sat Jan 25 StFX 6 Moncton 3
Fri Jan 24 StFX 5 UNB 4
Sat Jan 18 St. Thomas 10 StFX 7
Fri Jan 17 UPEI 4 StFX 3
Sat Jan 11 St. Thomas 5 StFX 2
Fri Jan 10 StFX 5 UPEI 2
Tue Jan 7 Acadia 5 StFX 4
Fri Jan 3 Dalhousie 1 StFX 0
Fri Dec 27 StFX 5 Lakehead 3 NC
Sat Dec 28 Calgary 3 StFX 1 NC
Sun Dec 29 Toronto 4 StFX 2 NC
Sat Nov 30 StFX 4 Acadia 3 OL
Wed Nov 27 Dalhousie 5 StFX 2
Sat Nov 23 StFX 4 Saint Mary's 3
Fri Nov 22 Dalhousie 3 StFX 2 OL <