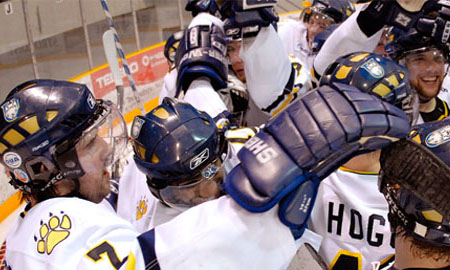 Sun Mar 16, 2003
Perennial OUA Mid West Champions York qualified for the University Cup by earning the second OUA berth as Queen's Cup Silver Medallists. They also defeated the Laurier Golden Hawks two games to one in the OUA Mid East Finals.
The No.4 Yeomen recorded a regular season record of 17-6-1 and an overall record of 22-13-1. York was third in the OUA in goals for with 128, and tied for second in goals allowed with 61. The Yeomen had the premier penalty kill unit in the OUA this season.
Head Coach Graham Wise said he expects a balanced tournament. "It's great to have qualified for the Nationals, we know the competition will be tough. At a tournament like this you have to respect all the teams and be ready to play your best game."
York Players To Watch:
The Yeomen are led by OUA West MVP and Rookie of the Year goaltender Derek Dolson. He led the CIS in shutouts with four and can win games for his team with his stellar goaltending. Another player to watch is OUA West-All star defenseman Sal Lettieri. Lettieri led all OUA defenseman in scoring. Team Captain Peter McCague is back, adding some grit to the Yeomen while speedy Daryl Bat is always dangerous.
York vs. University Cup Opposition 2002-2003 (Record: 2-3)
Mar 9 UQTR 7 York 4
Mar. 8 York 4 Lakehead 1
Nov 15 UQTR 7 York 3
Nov. 2, 2002: York 3 Lakehead 0
Nov. 1, 2002: Lakehead 5 York 2
Head-to-Head History:
The teams have played six times. York is 3-2 against Lakehead while Lakehead has outscored York 17-16.
Lakehead vs York Results:
Mar. 8, 2003: York 4 Lakehead 1
Nov. 2, 2002: York 3 Lakehead 0
Nov. 1, 2002: Lakehead 5 York 2
Nov. 2, 2001: York 4 @ Wolves 3 (Loss)
Nov. 3, 2001: York 3 @ Wolves 8 (Win)
For the York Roster, click here.
Historical Highlights:
1) Three CIAU (now CIS) Titles as national champions.
2) Eight appearances at CIAU national championships.
3) Four OUA Titles.
Player Honours:
CIAU Player of The Year (Joseph E. Sullivan Award):
1969-1970 Murray Stroud
1976-77 Ron Hawkshaw
All Canadians:
1969-1970 Murray Stroud
1971-1972 Steve Latinovich
1974-75 Doug Dunsmuir
1975-76 Bob Wasson
1976-77 Ron Hawkshaw
1984-85 Don McLaren
1988-89 Bill Maguire
1990-91 Brian MacDonald
York 2002-2003 Results:
Sun Mar 9 QUTR 7 York 4
Sat Mar 8 York 4 Lakehead 1
Sun Mar 2 York 5 Laurier 0
Sat Mar 1 Laurier 5 York 3
Thu Feb 27 York 5 Laurier 4
Sat Feb 15 York 5 Brock 3
Thu Feb 13 York 4 Brock 0
Sat Feb 8 York 4 Windsor 1
Fri Feb 7 York 6 Windsor 0
Sat Feb 1 York 14 Waterloo 0
Thu Jan 30 Western 2 York 1
Sat Jan 25 York 10 Laurier 1
Thu Jan 23 York 7 Guelph 4
Sat Jan 18 York 7 Guelph 2
Thu Jan 16 York 4 Laurier 2
Sat Jan 11 York 3 Brock 2
Wed Jan 8 York 9 Brock 5
Sat Jan 4 Humber 6 York 4 EX
Sat Dec 28 York 13 RMC 3 NC
Sun Dec 29 Northeastern 6 York 3 EX Champ
Sat Nov 23 McGill 1 York 0
Fri Nov 22 York 7 Ottawa 2
Sat Nov 16 York 7 Concordia 4
Sun Nov 10 York 7 Waterloo 4
Sat Nov 9 Western 5 York 2
Sat Nov 2 York 3 Lakehead 0
Fri Nov 1 Lakehead 5 York 2
Sun Oct 27 Cornell 9 York 1 EX
Sat Oct 26 York 4 RMC 4 TIE OT
Fri Oct 24 York 10 Queen's 3
Sat Oct 19 York 8 Ryerson 2
Thu Oct 17 Toronto 2 York 1
Sun Oct 13 Ottawa 5 York 4 NC Cons
Sat Oct 12 Concordia 5 York 3 NC
Sun Oct 6 Laurier 4 York 3 NC Champ
Sat Oct 5 York 6 McGill 5 NC OT
Tue Oct 1 Toronto 5 York 3 NC