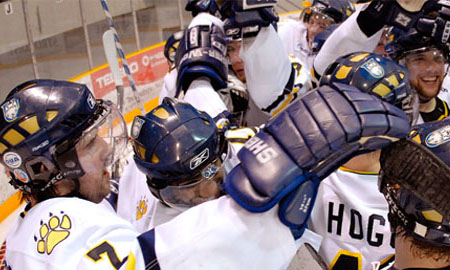 Fri Mar 14, 2003
No. 3 UNB come into the University Cup as both the AUS Champions and as host team. UNB recorded a regular season record of 15-12-1-0 and an overall record of 24-15-1. UNB was second in the AUS in goals for with 107 and tied for first in goals against with 88.
Head Coach Gardiner MacDougall said his team is very proud to be representing the AUS at the University Cup and looks forward to a great tourney. "We are very excited to represent UNB and our conference at the Nationals. It is a great time for our players, our school, and our city. One of our goals at the beginning of the season was to win the AUS title and we accomplished that. But, that being said, we still have a lot of work ahead of us with the two great teams that we will face."
UNB Players To Watch:
The Varsity Reds are a very deep team with a lot of players who can score. Ryan Lindsay, Jason Hegberg, Troy Stonier, and AUS All-Star Ryan Walsh are all players to watch. AUS All-Star defenseman Kevin Werner prowls the blue line for the Reds. Goaltender Reg Bourcier was second in the AUS with a GAA of 2.60.
For UNB Roster: click here:
UNB vs. University Cup Opposition 2002-2003 (Record: 5-4)
Mar 9 UNB 4 StFX 3
Mar 8 UNB 5 StFX 3
Mar 6 StFX 4 UNB 2
Mar 5 UNB 3 StFX 1
Jan 31 UNB 3 StFX 2
Jan 24 StFX 5 UNB 4
Nov 8 StFX 4 UNB 2
Nov 1 StFX 4 UNB 3
Oct 4 UNB 5 UQTR 2 NC
Historical Highlights:
- CIS/National Championships: 1
- Conference Titles: 10 (5 MIAA, 3 AUAA and 2 AUS)
UNB 2002-2003 Results:
Sun Mar 9 UNB 4 StFX 3 PL conf f
Sat Mar 8 UNB 5 StFX 3 PL conf f
Thu Mar 6 StFX 4 UNB 2 PL conf f
Wed Mar 5 UNB 3 StFX 1 PL conf f
Sun Mar 2 UNB 4 St. Thomas 1 PL conf sf
Fri Feb 28 St. Thomas 2 UNB 1 PL OT conf sf
Wed Feb 26 UNB 5 St. Thomas 3 PL conf sf
Fri Feb 21 UNB 3 Saint Mary's 1 PL conf qf
Wed Feb 19 UNB 2 Saint Mary's 0 PL conf qf
Sat Feb 15 UNB 8 UPEI 2
Fri Feb 14 UNB 3 Moncton 1
Sat Feb 8 UNB 3 Moncton 0
Fri Feb 7 UNB 10 UPEI 2
Sat Feb 1 Saint Mary's 4 UNB 3
Fri Jan 31 UNB 3 StFX 2 OL
Wed Jan 29 St. Thomas 5 UNB 5 TIE OT
Sat Jan 25 Saint Mary's 3 UNB 1
Fri Jan 24 StFX 5 UNB 4
Wed Jan 22 St. Thomas 5 UNB 2
Sat Jan 18 Dalhousie 2 UNB 1
Fri Jan 17 UNB 4 Acadia 2
Wed Jan 15 Moncton 4 UNB 1
Sat Jan 11 Dalhousie 3 UNB 1
Fri Jan 10 Acadia 4 UNB 2
Sat Nov 23 UNB 6 UPEI 2
Wed Nov 20 UNB 8 St. Thomas 2
Sun Nov 17 UNB 5 Moncton 3
Sat Nov 16 UPEI 5 UNB 2
Sat Nov 9 UNB 5 Saint Mary's 4
Fri Nov 8 StFX 4 UNB 2
Sat Nov 2 UNB 4 Saint Mary's 3 OL
Fri Nov 1 StFX 4 UNB 3
Wed Oct 30 UNB 7 St. Thomas 5
Sat Oct 26 Dalhousie 6 UNB 3
Fri Oct 24 UNB 3 Acadia 2 OL
Sat Oct 19 UNB 2 Dalhousie 0
Fri Oct 18 UNB 6 Acadia 4
Sat Oct 12 UNB 2 Quinnipiac 2 EX TIE OT
Fri Oct 11 Maine 2 UNB 1 EX
Fri Oct 4 UNB 5 UQTR 2 NC
Mon Sep 30 StJ Flames prospects 2 UNB 2 EX
For more info on UNB Hockey, click here: