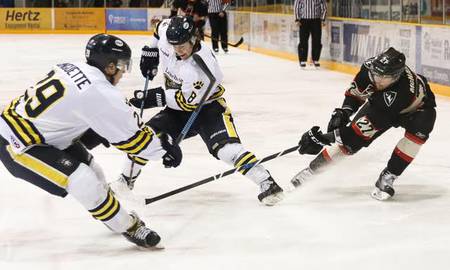 Fri Jan 08, 2016
The 1,957 fans that showed up at the Fort William Gardens Friday night saw one of the most exciting games in recent memory as the Lakehead Thunderwolves took down the Carleton Ravens and skated off with a 3-2 victory over the 8th ranked team in the country.
The game was filled with great goaltending, plenty of scoring chances, loads of hard hits, 110 minutes in penalties and a good old-fashioned donnybrook.
Lakehead controlled most of the play in the first period, and Cody Alcock gave the Wolves a 1-0 lead on a goal set up by Dylan Butler and Jake Wright 12:06 into the game.
With Lakehead on the power play, Billy Jenkins fed Jake Ringuette who blasted a point shot past Ravens netminder Patrick Killeen with a minute left on the clock to give the Wolves a 2-0 lead heading into the second.
Michael McNamee converted a perfect tic-tac-toe play that Lakehead goalie Devin Green had no chance on while Carleton held the man-advantage 4:57 into the middle frame.
The Ravens seemed to get their legs back and were gaining momentum as the period wore on, but Green was equal to the task whenever he was called upon.
With less than two minutes to go in the second, Carletons Owen Werthner cross-checked Brennen Dubchak into the boards at the Ravens end of the rink, raising the ire of Brennens brother Carson and a melee ensued.
Killeen left his goal crease to join the fray, which was highlighted by an exchange of blows between Lakeheads Linden Springer and Carletons Hayden Hulton. Springer definitely held the advantage in the showdown, and all three were subsequently ejected from the game.
Kelin Ainsworth put the Wolves up 3-1 at 16:25 of the third by firing the puck high on the blocker side of Francis Dupuis, who had replaced Killeen in the Ravens net. Jenkins picked up his second helper of night and Jay Gilbert was also credited with an assist.
Carleton pulled Dupuis for an extra attacker in the waning minutes and Brett Welychka scored on a screen shot with five seconds left on the clock, but it was too little, too late for the Ravens and Lakehead held on for the win.
Shots on goal for the night were 32-29 for Carleton.
The Molson Three Stars of the game were:
1.Devin Green, Lakehead
2.Jake Ringuette, Lakehead
3.Kelin Ainsworth, Lakehead
The two teams will square off again tomorrow night at the Fort William Gardens beginning at 7:00 PM.