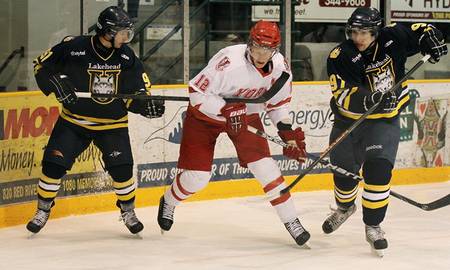 Sat Oct 13, 2012
The Lakehead Thunderwolves hockey team defeated the York Lions 7-3 Friday night in front of 3153 fans at the Fort William Gardens in Thunder Bay, ON. The Wolves featured a balanced attack, with seven different players scoring for Lakehead.

Luke Judson got things going early for the Thundewolves by beating York goaltender Andrew Perugini on the power play just 1:26 into the game. Late in the period, Mike Hammond was robbed by Perugini after a nice feed from Matt Caria on a two-on-one opportunity, and shortly afterwards Mackenzie Micks evened the score at 1-1 by blasting one past Lakehead netminder Alex Dupuis at 18:52 to round out the scoring in the first.

For the third game in a row, Lakehead played a strong second period, and exploded with four goals in the middle frame. Andrew Wilkins started it off just 31 seconds into it, and Keith Grondin notched one at 5:02 to make the score 3-1 for the Wolves. Thomas Frazee widened the lead to 4-1 on the power play at 15:48, but Yorks Chad Hohmann cut the margin to 4-2 when he scored at the 17:44 mark. Dupuis was shaken up on the play, and was forced to leave the game with a lower-body injury; Jeff Bosch was then sent in to replace him in the Lakehead goal. The Wolves restored the three-goal margin late in the period when Trevor Gamache flipped the puck over a sprawling Perugini at 19:31, making the score 5-2 for Lakehead heading into the third.

Yorks Jessie Messier fired one past Bosch at 13:10 to narrow the Wolves lead to 5-3, but Mike Hammond responded for Lakehead at 16:07 to make it 6-3 for the Thunderwolves. Carson Dubchak rounded out the scoring for the Wolves with just 19 seconds remaining in the game, making the final score 7-3 in Lakeheads favor. The Wolves outshot the Lions 30-17 for the game.

The Molsons Three Stars of the game were:
1.Mike Hammond, Lakehead
2.Thomas Frazee, Lakehead
3.Luke Judson, Lakehead

Hammond, Frazee and Judson all tallied 3 points each on the night, with all three players recording a goal and two assists.
The two teams will be back on the ice Saturday night, with the opening face-off set for 7:30.