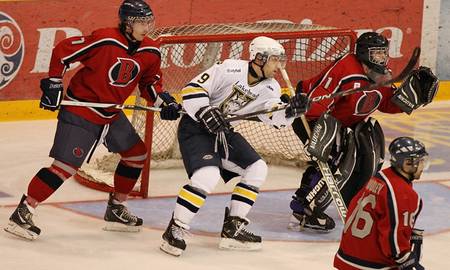 Sat Sep 29, 2012
The Lakehead Thunderwolves lost 7-4 to the Brock Badgers on Saturday night at the Fort William Gardens in Thunder Bay, ON.
It wasnt the start Lakehead was looking for after an emotional overtime win on Friday night. A couple of sloppy minutes in their own end cost the Wolves as Brock scored three goals in a span of just under two minutes to take a commanding 3-0 lead.
The first goal was credited to Brocks Thomas Stajan, who was the last Brock player to touch the puck as it found its way through some traffic in front and somehow eluded Lakehead goaltender Jeff Bosch.
After a breakdown in the defensive zone in which the Wolves couldnt get the puck out of their own end, Johnson Andrews walked in and ripped a slap-shot past Bosch.
The Badgers scored their third goal after yet another breakdown in the defensive end. Matt Abercrombie had all kinds of real estate to walk in and fire a shot past Bosch.
Just before the period ended, Brock continued their onslaught on the power-play as Andrews scored his second of the game, putting the Badgers up 4-0 heading into the second period.
Mike Hammond got the Wolves on the board on a beautiful goal in which he danced through the neutral zone, slipped past a couple Brock defenders and slipped the puck past Badger goaltender Cody Blois, making it 4-1 for Brock.
At 16:17 of the period, Brock restored their 4-goal lead as Johnson Andrews scored his third goal of the game on the power-play, after a Kalvin Sagert block ended up on his stick.
Hammond answered for Lakehead shortly thereafter on a nice pass from Matt Caria with 14 seconds left in the middle stanza, making it 5-2 Badgers.
In the third period, Ryan Magill put home a James Delory centering pass to cut Brocks lead to 5-3.
Lakehead gave up another though, as Jordan Gignac made it 6-3 for the Badgers halfway through the third.
Lakehead freshman Mike MacDonald scored his first goal in a Wolves uniform at 11:25 of the third on a nice passing play with Adam Sergerie and Andrew Wilkins, cutting Brocks lead to 6-4.
Daniel Tanel added one more for Brock into an empty net when Bosch was pulled for an extra attacker, making the score 7-4 Badgers before Bosch could even make it to the Lakehead bench.
The Molson 3 Stars of the game were:
1- Johnson Andrews, Brock
2-Mike Hammond, Lakehead
3-Sean Jones, Brock
The Wolves kick off the OUA regular season net Weekend in Guelph against the Gryphons.