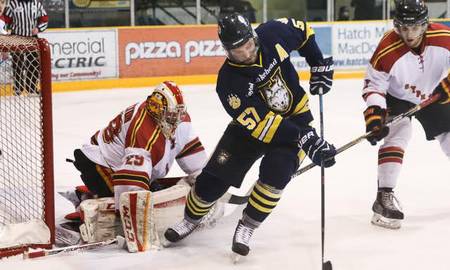 Thu Dec 31, 2015
The Lakehead Thunderwolves downed Guelph 6-4 in front of 1816 fans at the Fort William Gardens on Wednesday night to sweep the Gryphons in the Save on Energy Christmas Challenge.
Guelph was up 2-0 before the game was six-minutes old on goals by Stephan Hiff and Dylan Gilbert, but Jake Wright got Lakehead on the board with an unassisted marker just past the halfway point of the first period.
Lenny Fabbri beat Wolves goalie Devin Green late in the first frame to give the Gryphons a 3-1 lead heading into the second.
Wright struck again for Lakehead early in the middle stanza to narrow the gap to 3-2, and then completed a natural hat-trick to even the score when he fired the puck past Guelphs Keith Hamilton at the 10:31 mark.
Billy Jenkins gave the Wolves their first lead of the night when he flipped the puck over Hamiltons shoulder 1:07 into the third, but Rob DeFulvis replied for the Gryphons midway through the period to knot the score at 4-4.
Austin McDonald notched the winner at 13:04, and then Carson Dubchak added some insurance less than 30 seconds later to round out the scoring for the night.
Shots on goal in the wide-open contest favored Guelph by a margin of 45-38.
The Molson Three Stars of the game were:
1.Jake Wright, Lakehead
2.Billy Jenkins, Lakehead
3.Justin Sefton, Lakehead
Hopefully, Lakeheads impressive sweep of the defending OUA champs will propel the Wolves to a strong second half of the regular season, which begins on January 8 when the Carleton Ravens visit the Fort William Gardens for a two-game set.