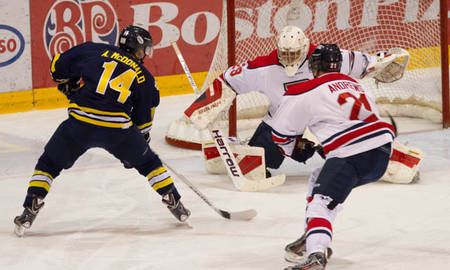 Sat Dec 05, 2015
The Lakehead Thunderwolves overcame a two-goal deficit to defeat the Brock Badgers 3-2 at the Seymour-Hannah Centre in St. Catharines on Friday night.
Brock jumped out to an early lead when Chris Maniccia scored on Wolves netminder Devin Green just 55 seconds into the game, and that turned out to be the only goal of the first period.
The Badgers went up by two on a Mitch Nardi marker at 6:15 of the second, but Cody Alcock beat Brock goalie Clint Windsor on a goal assisted by Jake Wright and Dylan Butler to bring the Wolves to within one at 7:35 of the middle frame.
Wrights unassisted goal 2:07 into the third period tied the game up at 2-2, and then Billy Jenkins fired home the winner after being set up by Matt Alexander with just over five minutes left on the clock.
The Wolves dominated the play for most of the game, outshooting the Badgers 39-21 on the night.
In a game in which only three minor penalties were called, Lakehead went 0-for-2 on the power play while Brock was 0-for-1.
With the win, Lakeheads OUA record improves to 2-10-3, and to 4-12-4 overall.
The Wolves will travel to Toronto tomorrow to take on the York Lions in their last game before the Christmas exams break.