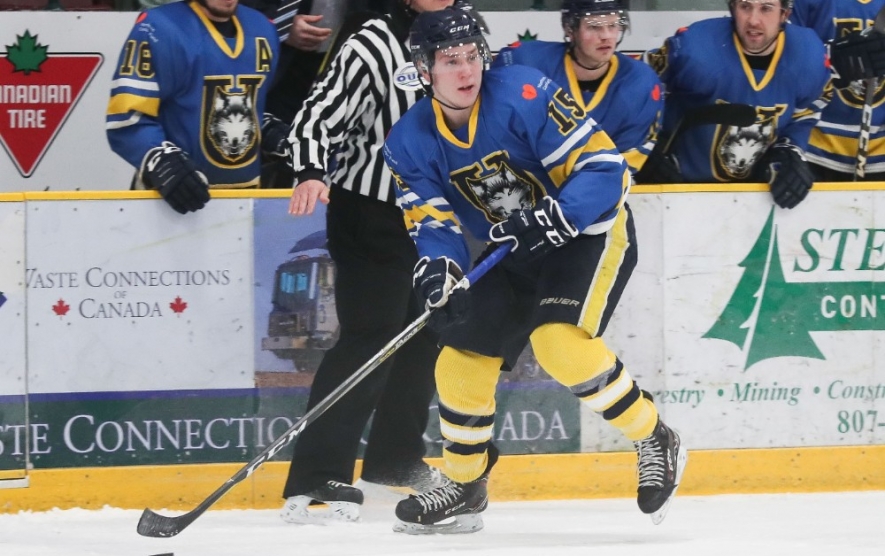 Fri Feb 01, 2019
Lakehead's third-period rally fell just short as the Thunderwolves were edged 5-4 by the Guelph Gryphons before a crowd of 2,189 at the Fort William Gardens on Friday night.
Lakehead's line of Josh Laframboise, Tomas Soustal and Dexter Kuczek was dynamite all night long, but unfortunately the loss took off some of the shine from Laframboise's three-goal performance.
A slow start hurt the Thunderwolves as the Gryphons were up 2-0 by the 1:43 mark of the first period. Todd Winder converted a two-on-one break that Lakehead goalie Nic Renyard had little chance on, and then just 12 seconds later Connor Bramwell knocked home a rebound after a nice first stop by Renyard.
Laframboise scored on a wrister from the slot after a nice setup by Kuczek from the behind the Guelph net at 3:21, with Soustal getting the other assist.
Andres Kopstals put the Gryphons up 3-1 at 7:27 of the middle frame, but Laframboise fired another wrister from the slot past Guelph netminder Andrew Masters after nice feed by Soustal from behind the net.
Seth Swenson's slapper from the high slot put Guelph in front 4-2 and chased Renyard from the Wolves' goal, where he was replace by Devin Green.
Stephen Templeton scored on a great setup off a give-and-go that he finished off with a laser that beat Green high on the blocker side at 15:56 of the second to give the Gryphons a 5-2 lead heading into the third.
The Wolves showed plenty of fight and totally dominated the play throughout the final frame.
Cooper Leitch scored on a slapper from a sharp angle midway through the period to narrow the gap to 5-3, with Brett Wolframe and Matt Alexander getting the helpers.
Laframboise completed his hat trick with another goal from the slot at 18:53 with Soustal and Patrick Murphy assisting, and it looked like the Wolves might just force overtime.
Lakehead continued to buzz around in the Gryphons' zone, but were unable to get the equalizer as Guelph held on for the win.
Total shots on goal in the game were 39-33 in favor of the Thunderwolves.
For the night, Lakehead was 0-for-5 on the power play, while Guelph went 0-for-3.
The Molson Three Stars of the Game were:
Josh Laframboise, Lakehead
Tomas Soustal, Lakehead
Stephen Templeton, Guelph
The loss was Lakehead's fifth straight and leaves the Thunderwolves with an OUA record of 10-14-1 (16-15-1 overall) and drops them into the cellar of the West Division, but only two points shy of a playoff bid.
The Wolves will look to climb up out of that spot when they take on the Gryphons again on Saturday night, with the opening face-off set for 7:05 p.m.