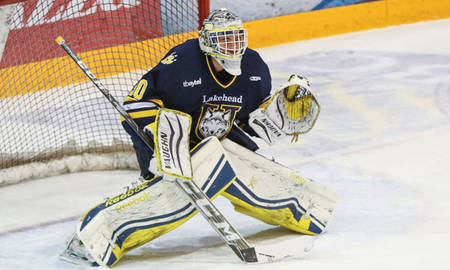 Sat Feb 06, 2016
Despite being eliminated from playoff contention the night before, the Lakehead Thunderwolves showed no signs of quit and put in a solid performanceto beat the Guelph Gryphons 2-1 in overtime at the Gryphon Centre on Saturday night.
The game was a goaltending duel between Lakeheads Devin Green and Guelphs Scott Stajcer, with Green looking particularly sharp in recording the win.
Both teams were held scoreless in the first two-and-a-half periods of play before Lakeheads Carson Dubchak broke the scoring drought by knocking home his brother Brennans rebound from the edge of the crease with 9:35 remaining in the third. Jay Gilbert was credited with the second assist.
Lakehead looked poised to secure a shutout, but a cross checking penalty by David Quesnele with just over a minute to go in regulation put the Wolves lead in jeopardy.
Guelph pulled Stajcer to gain a 6-on-4 power play advantage and tied the game with only 21 seconds left on the clock when Nicholas Trecapelli swatted home a rebound off a nice initial save by Green.
After the Gryphons were assessed a two-minute minor early in the first overtime periodfor too many men on the ice, Lakehead created several good scoring chances and capitalized just after the penalty expired when Kelin Ainsworth pounced on another rebound to give the Wolves the victory.
On the night, the Thunderwolves were officially 0-for-5 on the power play while the Gryphons went 1-for-5.
Shots on goal in the game were 37-35 for Guelph.
The win improves Lakeheads OUA record to 7-15-4 and to 11-17-5 overall.
The Wolves will return home to close out the season against the Laurier Golden Hawks next weekend.