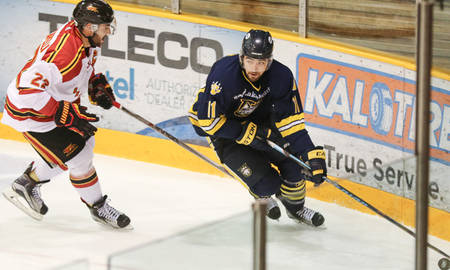 Tue Dec 29, 2015
The Lakehead Thunderwolves defeated the defending Queens Cup champion Guelph Gryphons 4-2 in the first game of the Save on Energy Christmas Challenge before 2022 fans at the Fort William Gardens Tuesday night.
Guelph struck first when Tryg Strand beat Lakehead goalie Devin Green on the blocker side to finish off an odd-man rush just 3:17 into the game.
Brennen Dubchak replied for Lakehead with a nice shot that eluded Gryphons netminder Andrew DAgostini at 13:58 of the first, with Garick Gary and E.J. Faust getting the assists.
Faust put the Wolves up 2-1 late in the second period after getting off a shot from the slot just before he was knocked down by a Guelph defender. Brennen and Carson Dubchak were credited with the helpers.
The Gryphons knotted the score at 2-2 on a goal by Trevor Morbeck 6:01 into the third, but a checking from behind penalty plus a ten-minute misconduct by Kyle Neuber gave Lakehead a five-minute power play late in the contest.
Cody Alcock capitalized on the opportunity with a blast from the slot that beat DAgostini on the glove side to give the Wolves a 3-2 lead at the 16:02 mark.
Alcock added another two minutes later with the Wolves still on the power play with a one-timer off a nice feed fromBilly Jenkins, with Jay Gilbertgetting the second assist.
Shots on goal for the night were 36-28 for Lakehead.
The Molson Three Stars of the game were:
1.Cody Alcock, Lakehead
2.Brennen Dubchak, Lakehead
3.Devin Green, Lakehead
Lakehead will look to continue its winning ways tomorrow night when the two teams hit the ice again at 7:00 PM in the second game of the Save on Energy Christmas Challenge presented by Thunder Bay Hydro.