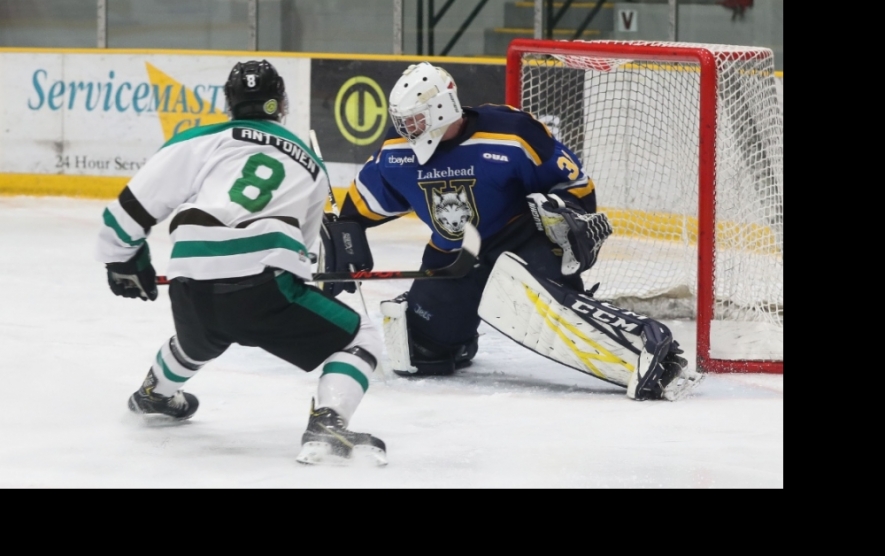 Sun Dec 29, 2019
The Lakehead Thunderwolves returned to the ice after almost a month off with a bang, defeating their next-door neighbours, the Thunder Bay Northstars, 5-1 Sunday night at the Fort William Gardens.
Thunderwolves forwards Cooper Leitch, Daniel McKitrick, and Brett Wolframe, defensemen Aaron Wesley-Chisel, Patrick Murphy, and Caleb Boman and goaltender Brock Aiken all joined the Northstars line-up for Sunday nights game in an effort to level out the competitive balance.
After a scoreless first period, Lakehead senior Callum Fryer opened up the scoring with a one-timer off of a pass from sophomore Tomas Soustal.
Soustal would earn his second assist of the night on the Thunderwolves' second goal of the night when Thunderwolves second goal of the game when the broke out on an odd-man rush. Forward Jordan King passed the puck out from behind the net to Soustal, who redirected to former Northstar and Lakehead junior Daniel Del Paggio. Del Paggio went five-hole on Brock Aikens to put the Thunderwolves up 2-0.
The Thunderwolves' third goal of the night came from Dexter Kuczek, who's wrist shot sent the puck just under the crossbar and into the back of the Northstars net.
With the time just about the run out in the second period, the Northstars capitalized on a turnover in the Thunderwolves end as defenceman Logan Mihalcin got his team on the board with only a second left to play.
Thunderwolves forward Scott Gall scored two back-to-back goals in the final period of Sunday nights game to seal the deal for Lakehead.
Thunderwolves goaltender Nic Renyard made 40 saves to help the Thunderwolves secure the win over the Northstars.
The two teams will meet for one more game before the end of 2019, facing off at 7:00 pm on December 30 at the Fort William Gardens.