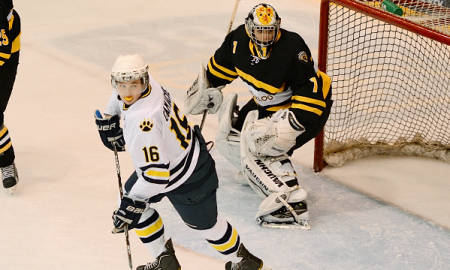 Fri Oct 19, 2012
The Lakehead Thunderwolves hockey team fell 5-4 to the Waterloo Warriors at the Columbia Ice Fields in Waterloo, ON Friday night. It was the Wolves first game without Head Coach Joel Scherban behind the bench, after he was replaced by Interim Head Coach Mike Busniuk just a day earlier.

Matt Caria opened the scoring for Lakehead when he beat Warriors netminder Keaton Hartigan at 7:38 of the first period, with Mike Hammond and Luke Judson credited with the assists. Waterloo tied the game with Justin Larson firing the puck past Lakehead goalie Alex Dupuis at the 17:20 mark, and the Warriors took the lead just over a minute later when Joe Underwood scored on the power play, giving Waterloo a 2-1 lead when the buzzer sounded to end the period. Lakehead came out flat in the opening frame, and the Warriors badly outshot the Wolves 16-4 in the first.

The Thunderwolves played better in the middle stanza, and Adam Sergerie tied the game at 2-2 on a goal assisted by Chris de la Lande and Carson Dubchak midway through the period. But Waterloos Kirt Hill scored with only 18 seconds left in the second period to give the Warriors a 3-2 lead heading into the third. Shots on goal were much closer in the second period, but Waterloo still held the edge by a slim 11-9 margin.

Lakehead got some offensive spark going early in the final frame, and Thomas Frazee set up Mike MacDonald to knot the score at 3-3 just over five minutes into the third. Less than two minutes later, the Wolves had a 4-3 lead after Trevor Gamache scored from Andrew Wilkins at 6:47. But the Warriors kept pouring on the pressure for the rest of the period, and finally tied the game at 4-4 on a blast by Colin Behenna with 2:31 left in regulation. That was all the scoring in the third period, one in which Waterloo outshot Lakehead 18-10.

The overtime ended almost as soon as it had begun, when the Warriors Behenna scored again, firing the winning goal just 25 seconds into the extra period. Shots on goal for the game were 44-26 in Waterloos favor.

The loss drops Lakeheads OUA record to 3-1-1 and 5-3-1 overall.

The Wolves are in action again tomorrow night when they take on the Laurier Golden Hawks in Brantford, ON.