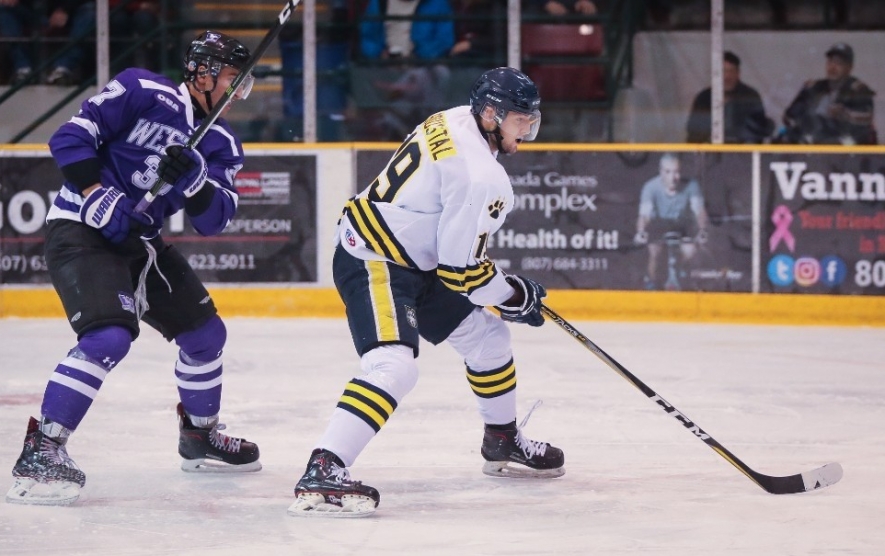 Sat Jan 25, 2020
The Lakehead Thunderwolves picked up a 3-2 overtime win against the Western Mustangs Saturday night in London, ON.
"It was a huge win for the guys tonight, character response after a tough night in Windsor," said head coach Andrew Wilkins.
After a tough loss to the Lancers the night before, the Thunderwolves rebounded nicely. Lakehead sophomore Daniel McKitrick opened up the scoring in Saturday night's game, capitalizing on a good forecheck by Brendan Martin and Cooper Leitch. Both Thunderwolves forward both picked up an assist on the goal.
The Mustang responded with a power-play goal from forward Kenny Huether with less than 5 minutes to play in the first. After a scoreless second period, the Mustangs took the lead thanks to a goal from defenceman Austin Osmanski early in the third.
With Thunderwolves goaltender Nic Renyard pulled and less than a minute left to play, Lakehead sophomore Dexter Kuczek knocked a rebound in through the five-hole, tying the game and sending the two teams into overtime.
The Thunderwolves were awarded a power play with less than three minutes left to play in overtime. Lakehead junior Daniel Del Paggio took advantage of the opportunity, feeding the puck to sophomore Tomas Soustal who tipped it into the back of the Mustangs net, ending the game and picking up two points for the Thunderwolves.
"We played to what we would like our standard to be. Huge weekend upcoming against Brock, we're looking forward to returning to the Fort William Gardens," said Wilkins.
The Thunderwolves will play the remaining games of the OUA regular season at home, starting with back-to-back games against the Brock Badgers next weekend at the Fort William Gardens.