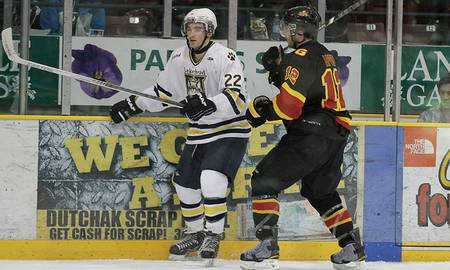 Sat Jan 05, 2013
The Lakehead Thunderwolves were downed 5-2 by the Guelph Gryphons on Saturday night in front of 2679 fans at the Fort William Gardens in Thunder Bay.
There was a quick pace to start the game, with both teams picking up where they left off Friday night. Wolves captain Adam Sergerie got the home-side on the board first at 9:08 of the opening frame as he took a pass from Matt Caria at the side of the net and stuffed it past Gryphons goalie Brandon Maxwell. The other assist was credited to Mike Quesnele.
Guelph tied things up at 16:58 of the first on a broken down play as James Merrett found himself alone in front of Wolves netminder Alex Dupuis, knotting things up 1-1.
The Gryphons took the lead five minutes into the second period, with Jake Carrick in the box for kneeing, when Jon-Thomas MacDonald came in down the right side and fired a seeing-eye shot past Dupuis.
Guelph increased its lead to 3-1 at 12:35 off of a bad clearing attempt from Mike Quesnele. Gryphon defenseman Cameron Odam picked up the loose puck and beat Dupuis on a long wrist-shot.
Lakehead had plenty of chances in the third period, but couldnt seem to get the puck past Maxwell, who was solid in goal for the Gryphons.
Guelph added another when Nicklas Huard outwaited a sprawling Alex Dupuis and deposited the puck into a wide open cage, giving the Gryphons a 4-1 lead.
Jason Grecica cut the Guelph lead in half at 15:27 when he popped home a loose puck, making it 4-2. Mike Quesnele and Luke Judson were credited with the assists.
Brett Appio added a late empty-netter for Guelph to seal the 5-2 victory.
The Molson 3 Stars of the game were:
1. Brandon Maxwell, Guelph
2. Jon-Thomas MacDonald, Guelph
3. Jason Grecica, Lakehead
Lakehead is on the road next weekend in, taking on the York Lions in Toronto.