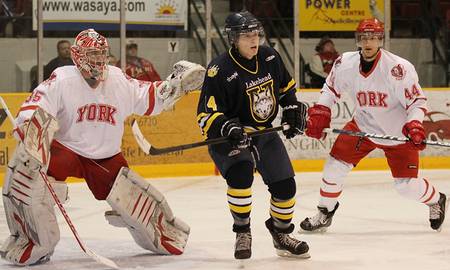 Sat Oct 13, 2012
The Lakehead Thunderwolves lost 6-3 to the York Lions in front of 2778 fans at the Fort William Gardens in Thunder Bay on Saturday night. The Wolves dug themselves an early hole that turned out to be too deep to climb back out of.

The Lions struck early on the power play after Lakehead's Carson Dubchak was sent off for holding less than a minute into the game. Mike Lombardi drew first blood when he beat Wolves starting netminder Jeff Bosch at 1:29, and just over a minute later Jordan Davies added another to make it 2-0 for York. When Mackenzie Micks rifled the puck past Bosch at 4:06, the Lions were suddenly up 3-0.

At this point of the game, the Wolves were having problems clearing the puck out of their own end. Wolves Coach Joel Scherban called a time-out to settle things down, and Lakehead responded with a power play marker at 10:53 with Mike Hammond blasting one past York goalie Andrew Perugini to give the Wolves somelife. Matt Caria and Thomas Frazee were credited with the assists. But the Lions kept the pressure on and replied at 13:42 with a goal by Jordan Forfar. Things went from bad to worse when Yorks Jessie Messier flipped the puck past a sprawling Jeff Bosch to make it 5-1 for the Lions at the 15:31 mark. Bosch was subsequentlyreplaced in the Lakehead goal by Alex Dupuis, and there was no more scoring in a first period that saw York outshoot the Wolves 18-5.

The second period was much more evenly played than the first, and Lakeheadmade it closerat 7:48when Hammond and Kalvin Sagert set up Frazee, who beat Perugini tonarrow the gap to 5-2. Neither team was able to score for the remainder of the middle frame, one in which York barely outshot Lakehead 11-10.

Any hopes of a Thunderwolves comeback were dashed when the Lions Tyler McGee scored a short-handed goal early into the third period, shoveling the puck past Dupuis at 1:23 to make it 6-2 for the Lions. Trevor Gamache fed Caria who found the back of the net at 4:46 to make the score 6-3, but that was as the close as the Wolves would get against a stingy Lions defence. York outshot Lakehead 7-5 in the period and 36-20 for the game.

The Molson Three Stars of the Game were:
1. Jessie Messier, York
2. Thomas Frazee, Lakehead
3. Jordan Davies, York

The loss was Lakeheads first in OUA regular season play, and dropped the Wolves record to 3-1-0.

Lakehead hits the road next weekend for a pair of games at Waterloo and Laurier.