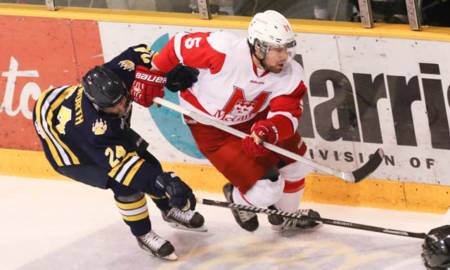 Fri Oct 30, 2015
The Lakehead Thunderwolves were downed 5-1 by the McGill Redmen at McConnell Arena in Montreal onFriday night.
McGills David Rose opened the scoring while the Redmen were on the power play at 3:13 of the first period.
Mathieu Pompei put McGill up 2-0 at 12:49, and then struck again at 19:54 when he finished off a nice two-on-one that Wolves goalie Devin Green had no chance on.
Rose notched his second of the night just 3:27 into the middle frame to give the Redmen a 4-0 cushion.
Lakehead broke Jacob Gervais-Chouinards shutout bid at 17:26 of the second when Jake Wright finished off a nice tic-tac-toe play with Linden Springer and Carson Dubchak to cut McGillslead to 4-1 heading into the third.
The Redmen put the game away on Dominic Talbot-Tassis power play goal with just over four minutes remaining in the game.
For the night, McGill went 2 for 6 with the man-advantage while Lakehead was 0 for 8.
Shots on goal in the game favored the Redmen by a 36-28 margin.
The Wolves will look to rebound when the two teams square off again tomorrow at 5:00 p.m.