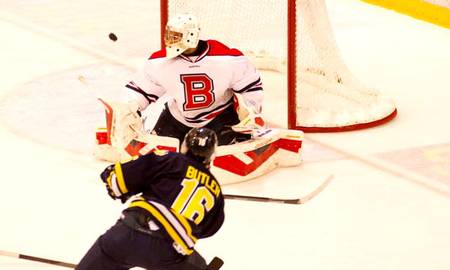 Fri Jan 22, 2016
The Lakehead Thunderwolves edged the Brock Badgers 4-3 in double overtime at the Seymour-Hannah Centre in St. Catharines Friday night.
Lakehead got the only goal of the first period when freshman Sam Schutt beat Badgers goalie Clint Windsor 8:13 into the game, with Dylan Butler and Jake Wright picking up the assists.
Brock tied the game when Ryan Purvis fired the puck past Wolves netminder Devin Green just 1:26 into the second stanza, and then went ahead by one on a goal by Sammy Banga at the 10:12 mark.
Lakehead took advantage of a power play opportunity just 11 seconds later and knotted the score at 2-2 on a blast from defenceman Jake Ringuette, set up by Jay Gilbert and Billy Jenkins.
Patrick Volpe put the Badgers in front 3-2 when he scored at 7:34 of the third period, but Jake Wright replied for Lakehead less than a minute later with Butler and Schutt getting the helpers.
Both teams were held scoreless for the rest of the final frame and the game went into overtime.
The first five minutes of 4-on-4 extra time solved nothing, but things opened up in the second overtime with 3-on-3 play.
Lakeheads Linden Springer broke the deadlock in the second O.T., recording the winner at 2:34 on a goal assisted by Jenkins and Kelin Ainsworth.
The Wolves went 1-for-6 on the power play on the night, while the Badgers were 0-for-4.
Shots on goal in the game favored Lakehead by a 43-32 margin.
The Thunderwolves will look to continue their winning ways when they travel to Toronto to take on the division-leading York Lions on Saturday night.