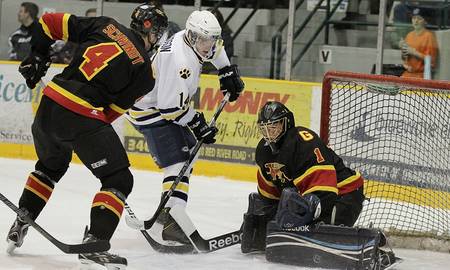 Fri Jan 04, 2013
The Lakehead Thunderwolves beat the Guelph Gryphons 4-3 in a shootout on Friday night at the Fort William Gardens in Thunder Bay before a crowd of 2567.
After a slow start, things picked up around the middle of the first period with some nice chances on both sides, including a great chance by Ryan Magill in front of the Guelph goal on a nice feed from Victor Anilane.
At 18:37 of the first period, freshman Luke Judson tipped a Jay Gilbert point shot past Guelph netminder Brandon Maxwell on the power-play to give Lakehead the 1-0 lead heading into the first intermission. Mike Hammond was credited with the second assist.
Lakehead made it 2-0 at 4:29 of the second period on a nice tic-tac-toe passing play by Victor Anilane and Jason Grecica, finished off by Ryan Magill into a wide-open net on a very nice shift from the Wolves fourth line.
At 8:14 of the second, Mike Quesnele scored from a sharp angle, increasing the Wolves lead to 3-0. The assist on the goal was credited to Ryan Magill.
Guelph got on the board a little over a minute into the third period, as Lakehead failed to clear the zone. Jon-Thomas MacDonald wired a wrist shot past Wolves goaltender Alex Dupuis, making it 3-1.
Guelph continued to make things interesting, and with Lakeheads Mike Quesnele in the box for roughing, Philip Teri fired a shot that found daylight past Dupuis, bringing Guelph to within one goal.
Guelph knotted things up at 3-3, with only 27 seconds left in the game as Guelphs Brett Appio found himself wide open at the side of the net with the puck on his stick. He made no mistake, tying things up to force overtime.
The extra period solved nothing, but there was a lengthy delay after a Kalvin Sagert slap-shot broke a pane of glass behind the Guelph net with only 5 seconds left in overtime.
In the shootout, Keith Grondin and Luke Judson both buried on Maxwell, and Dupuis stopped both shots he faced, sealing the win for the Wolves.
The Molson 3 Stars of the game were:
1st Luke Judson, Lakehead
2nd Ryan Magill, Lakehead
3rd Jon-Thomas MacDonald, Guelph
Both teams are back at it Saturday night at the Fort William Gardens at 7:30.