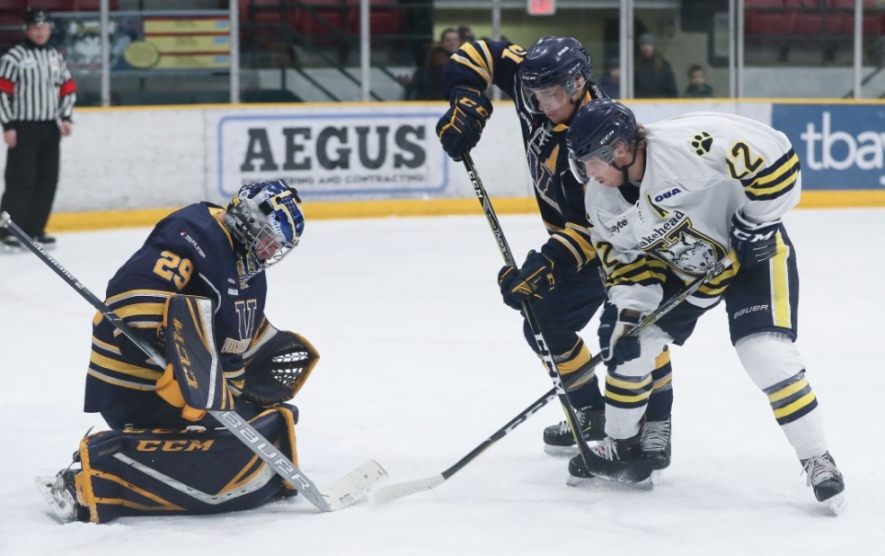 Sat Dec 29, 2018
The Lakehead Thunderwolves edged the Laurentian Voyageurs 3-2 in front of 2024 fans at the Fort William Gardens on Saturday night to sweep the two-game Christmas Challenge.
The Wolves drew first blood with a short-handed goal at 6:49 of the first when Brennen Dubchak converted a two-on-one break after a nice feed by Jordan King, with Dillon Donnelly getting the other assist.
Daniel Del Paggio blasted a one-timer past Laurentian netminder Mackenzie Savard off a great pass by Joseph Leonidas at 12:41 to put Lakehead up 2-0, with Scott Gall also picking up a helper.
Hayden Hopkins put the Voyageurs on the board when he slid the puck past Wolves' goalie Nic Renyard just before crashing into the net with 28 seconds left in the period.
Lakehead dominated the play in the opening 20 minutes, outshooting Laurentian 18-8.
That trend continued in the second period with the Wolves firing 16 shots on Savard, while Renyard faced just 7 in a scoreless middle frame.
Josh Laframboise knocked home a rebound midway through the third to put the Wolves up 3-1 after a terrific rush by defenceman Callum Fryer created the scoring chance, with King recording another assist on the goal.
Laurentian was awarded a power play with 1:26 to go in the game and pulled the goalie to give the Voyageurs a two-man advantage. They buzzed around the Wolves' net in the final stages and finally got another one past Renyard when David Elford converted just before time expired.
The third period was Laurentian's best of the weekend as they outshot Lakehead 16-9.
The final shots on goal tally was 43-31 for the Thunderwolves.
Lakehead went 0-for-5 on the power play for the night, while Laurentian was 1-for-6.
The Molson Three Stars of the game were:
Brennen Dubchak, Lakehead
Jordan King, Lakehead
Mackenzie Savard, Laurentian
Lakehead will remain at home next weekend for a pair of games against the Waterloo Warriors.