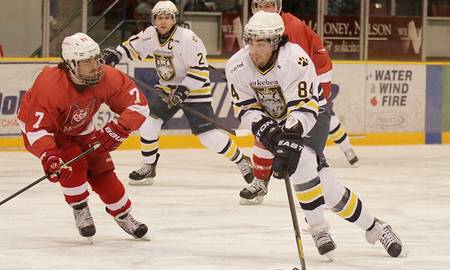 Fri Dec 28, 2012
The Lakehead Thunderwolves beat the McGill Redmen 3-2 in the first game of the Christmas Challenge on Friday night at the Fort William Gardens in Thunder Bay, ON in front of 2,721 fans.
The Wolves came out of the Christmas break hungry and looking to assert themselves against last years national champion McGill Redmen. They did just that early on with a couple of tremendous chances by Matt Caria and Trevor Gamache.
Lakehead got on the board at 7:31 of the first period on a nice behind the back pass from Andrew Wilkins that Adam Sergerie blasted past McGill netminder Hubert Morin. The second assist went to Matt Caria.
Caria and Sergerie looked great on the penalty kill together, accounting for several good chances in the first period alone.
Both teams continued the great pace in the second period, with McGill tying things up at 5:03 of the second when Justin Ducharme picked up a loose puck and fired it past Wolves goalie Alex Dupuis.
Lakehead restored its lead 27 seconds later when Trevor Gamache drove the net hard and muscled the puck past Morin. The assists were credited to Chris de la Lande and Mike Hammond.
The Wolves controlled much of the play in the second period, but McGill tied it up on a penalty shot from Max Le Sieur, after he was taken down by Mike Quesnele on a breakaway at 18:41 of the second.
Lakehead came out buzzing in the third period with a flurry of great chances in the opening five minutes, highlighted by a Matt Caria blast off the iron.
Mitch Fillman fed a beautiful back-door pass to Keith Grondin who scored the winning goal at 13:23 of the final frame, with Ryan Magill getting the other assist.
The Molson 3 Stars of the game were:
1. Matt Caria, Lakehead
2. Alex Dupuis, Lakehead
3. Justin Ducharme, McGill
Both teams are back at it Saturday night at the Fort William Gardens.