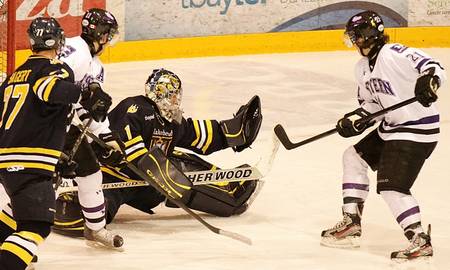 Fri Oct 26, 2012
The Lakehead Thunderwolves beat the Western Mustangs 3-2 on Friday night in a playoff atmosphere at the Fort William Gardens in front of a crowd of 3,036 in Thunder Bay, ON.
There was a nice pace to start the game, with both teams showcasing their skill early on and being rewarded with some nice chances, especially Matt Caria - who was robbed right on the doorstep by Mustangs goaltender Josh Unice early on.
The pace picked up after both teams got used to each other, and the last half of the period was filled with hits and some after the whistle rough stuff.
The intensity kept on rising in the second period, as both teams continued to take healthy runs at one another.
Lakehead drew first blood as Luke Judson knocked in a rebound in front of the net for his eighth goal of the season, after Matt Caria sliced through the neutral zone and ripped a shot on Unice.
Alex Dupuis was huge in goal for the Wolves in the second period, keeping Lakehead in front with some nice saves.
With only four seconds left in the second frame, Adam Sergerie increased Lakeheads lead to 2-0 after pouncing on a Trevor Gamache rebound, sending the Wolves into the dressing room up 2-0.
The third period started of great for the Wolves as they received an early power-play, and Kalvin Sagert capitalized on the opportunity with a wrister from the point that snuck through traffic and past Unice. Adam Sergerie was credited with the assist.
Tyler Peters got Western on the board with just over seven minutes left to play, as he found himself alone in front of Lakehead goalie Alex Dupuis.
Western really made things interesting when they made it 3-2 after the puck ended up on the stick of Mustang forward Matt Marantz, who snuck it by an out of position Dupuis at 17:13 of the third. But the Thunderwolves held on for the win, giving Lakehead its first win over Western in over two years.
The victory improves Lakeheads OUA record to 5-1-1, and keeps the Wolves in first place in the West Division.
The Molson 3 Stars of the game were:
1st Star Alex Dupuis, Lakehead
2nd Star Adam Sergerie, Lakehead
3rd Star - Tyler Peters, Western Ontario
Both teams are back at it Saturday night at the Fort William Gardens at 7:30.