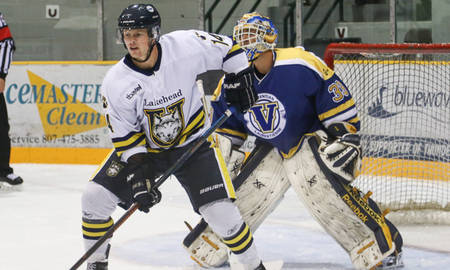 Sat Oct 03, 2015
The Lakehead Thunderwolves were edged 4-3 in overtime by the Laurentian Voyageurs in front of 1740 fans at the Fort William Gardens on Saturday afternoon.
Sam Schutt opened the scoring for Lakehead when he roofed it behind Laurentian goalie Charlie Millen from in-close at 10:44 of the first period.
Dylan Butler made it 2-0 for the Wolves midway through the second, and at that point Lakehead seemed to be in control of the game. But as the period wore on, Laurentian got stronger and narrowed the lead to 2-1 when Graham Yeo rifled the puck past Wolves goalie Devin Green with just less than five minutes remaining in the middle frame.
The Voyageurs seemed to grow even stronger in the third, and Blake Forslund tied the score just 1:43 into the final stanza.
Jake Ringuette put Lakehead back in front with a power play goal at 11:34, but Yeos second goal of the afternoon with just a minute left in regulation sent the game into overtime, just like the night before.
This time, however, it was Laurentian that came away with win as Dylan Fitze notched the winner at 1:09 of extra time while the Voyageurs had the man-advantage.
The Molson Three Stars of the game were:
1.Graham Yeo, Laurentian
2.Jake Ringuette, Lakehead
3.Devin Green, Lakehead
The Thunderwolves will head south of the border to take on the Minnesota-Duluth Bulldogs at Amsoil Arena tomorrow night.