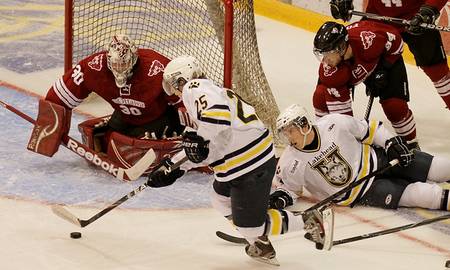 Fri Sep 21, 2012
The Lakehead Thunderwolves came out flying in the home opener Friday night at the Fort William Gardens in Thunder Bay, ON against the Ottawa Gee-Gees.
Unfortunately it wasnt enough as the Wolves were downed 4-3 in front of a crowd of 2,841.
Both teams were energetic, and looking to shake off the rust after a long summer. The Gardens was rocking, and sophomore forward Keith Grondin gave them reason to cheer early on as he converted a nice cross-ice feed from freshman Mike MacDonald.
Both teams were played a physical game, especially the Wolves Jake Carrick, who took several healthy runs at Ottawa players throughout the opening frame.
Lakehead goalie Alex Dupuis was strong in net, making several key saves when called upon.
The Wolves came out buzzing again in the second period, hitting everything, and creating chances all over the ice. Mike Quesnele scored on a beautiful pass from sophomore Mike Hammond, who danced through two Ottawa defenders and put the puck right on Quesneles stick at 12:53 of the second, putting Lakehead up 2-0.
The wheels came off soon after. Ottawa cut the deficit to one on a quick shot from Luc Olivier Blain-Oullet at 14:24. Then, Gee-Gee forward Guillaume Donovan found a loose puck around the net, and made no mistake, tying things up at two late in the period. Paul Forster made it 3-2 for Ottawa at 19:29 of the second, sending Lakehead to the dressing room trailing by one.
The third period started off sloppy as both teams were trying to not make the first mistake.
After a power-play that didnt result in much for the Wolves, Lakehead Captain Adam Sergerie just missed on a golden opportunity in front of the Ottawa net after a turnover, but couldnt get a handle on the puck in tight.
That seemed to be the story of the third period for Lakehead, as they just couldnt get the puck to settle down when scoring opportunities arose.
Ottawa extended its lead to 4-2 at 17:08 when Alexandre Touchette broke in alone and slipped the puck past Dupuis.
Mike Hammond added a goal with five seconds left in the game to make it 4-3, but it was too little, too late for the Wolves.
The Molson 3 Stars of the Game were:
1. Alexandre Touchette, Ottawa
2. Mike Hammond, Lakehead
3. Mike Quesnele, Lakehead
Both teams are back in action at 7:30 on Saturday night at the Fort William Gardens.