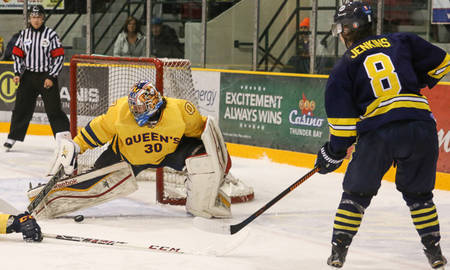 Fri Oct 23, 2015
The Lakehead Thunderwolves gave up two third-period goals and were edged 3-2 by the Queens Gaels in front of 2029 fans at the Fort William Gardens Friday night.
Justin Sefton put Lakehead up 1-0 at 9:46 of the first period when he rifled one past Queens goalie Kevin Bailie while the Wolves held the man-advantage, with Jake Ringuette and Billy Jenkins getting the assists.
Eric Ming dented the twine behind Lakehead netminder Jeff Bosch less than three minutes later to deadlock the score at 1-1 heading into the second.
Tyler Kunz put the Wolves up 2-1 at 8:21 of the middle frame after being set up by Jake Wright for the only goal of the period.
Eric Ming notched his second goal of the game with a shot that just snuck through Boschs pads while the Gaels were on the power play to even the score at 2-2 just 2:48 into the third. Then with only 3:01 left on the clock, Jordan Coccimiglio went top shelf on Bosch from in close to give Queens its first lead of the night.
Lakehead pulled Bosch for the extra attacker with just over a minute remaining in the game, but was unable to solve Bailie and the Gaels held on for the win.
Shots on goal for the game were 32-29 for Queens and both goaltenders put up solid performances.
The Molson Three Stars of the game were:
1.Eric Ming, Queens
2.Justin Sefton, Lakehead
3.Jordan Coccimiglio, Queens
The two teams will hit the ice again for the rematch on Saturday night at the Fort William Gardens with the opening face-off set for 7:00.