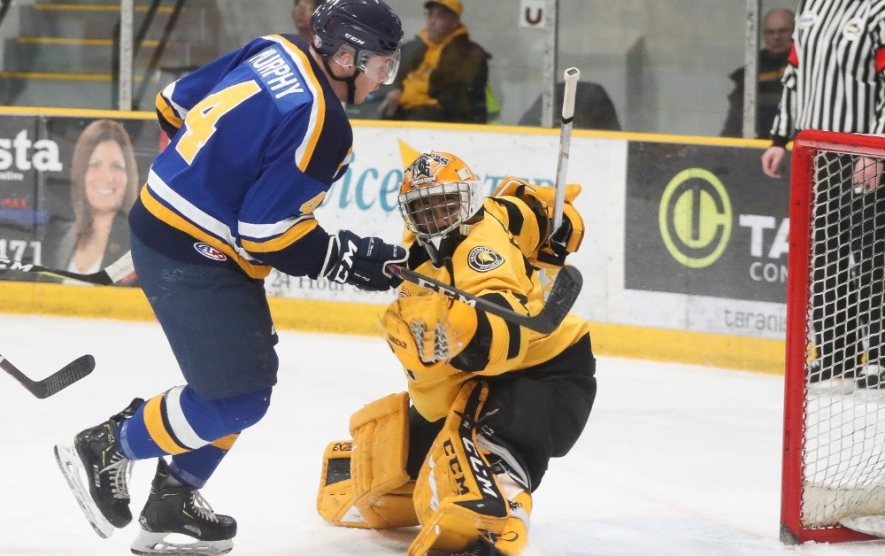 Sat Feb 08, 2020
The Lakehead Thunderwolves ended their regular season on a high note, defeating the Waterloo Warriors 3-1 Saturday night at the Fort William Gardens.
Thunderwolves' freshman defenseman Troy Williams got his team on the board early in the first, hammering the puck from the point to pick up his first goal of the season.
Lakehead went up 2-0 after graduating senior Patrick Murphy batted the puck into the back of the Waterloo net.
The Warriors took advantage of a power play late in the first as Alex Pawelczyk cut Lakehead's in half assisted by Connor Lovie.
Goaltenders Brock Aiken and Julian Sime shut the doors on their respective nets in the second period.
Halfway through the third, freshman forward Geoff Dempster carried the puck down the ice creating a two-on-one opportunity with sophomore Jordan King. King accepted the pass and went top shelf to secure the Wolves' win.
The #7-seeded Thunderwolves will meet the #2-seeded Ryerson Rams in the opening round of the playoffs. Lakehead will host Game #1 of the OUA West Division quarter-finals on Wednesday night at the Fort William Gardens at 7:00 p.m. The series will then shift to Toronto where Ryerson will host Game #2 on Saturday, and if necessary, Game #3, on Sunday.
Tickets for Game #1 are on sale at the Fort William Gardens box office.