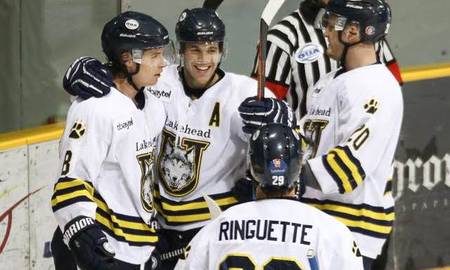 Sat Feb 13, 2016
The Lakehead Thunderwolves beat the Laurier Golden Hawks 4-3 to end their season on a winning note in front of 2,084 fans at the Fort William Gardens on Saturday night.
The win was especially gratifying for graduating seniors Luke Maw, Jeff Bosch and Kelin Ainsworth, who donned the Lakehead jersey for the last time and were honored before the game.
The Wolves opened the scoring when Nathan Cull notched his first goal of the season with a shot from the high slot that beat Hawks goalie Vinny Merante low on the stick side 16:17 into the game. Sam Schutt set Cull up with a nice pass from behind the net and Luke Maw picked up the other assist.
Lakehead went up by two while on the power play late in the period when Carson Dubchak scored from the edge of the crease, with Schutt and Brennen Dubchak getting the helpers.
Billy Jenkins put the Wolves up 3-0 at 6:05 of the second period on a goal assisted by Ainsworth and Garick Gray, but Lauriers Derek Schoenmakers rifled the puck over the shoulder of Lakehead netminder Jeff Bosch at 8:28 while the Hawks held the man advantage to cut the lead to 3-1.
Schutt restored the Wolves three-goal cushion when he converted on a perfect feed from Cull at 11:54, with Jake Ringuette also getting an assist.
Lakeheads comfortable 4-1 lead got squeezed when Schoenmakers tallied twice in the third period to complete his hat trick and narrow the gap to 4-3 with just over seven minutes left on the clock.
The Hawks continued to apply pressure and pulled Merante for an extra attacker with a minute to go in the game, but were unable to get another one past Bosch and the Wolves held on for the win.
Shots on goal for night were 35-31 in favor of Laurier.
The Wolves went 1-for-2 on the power play while the Hawks were 2-for-5.
The Molson Three Stars of the game were:
1.Sam Schutt, Lakehead
2.Derek Schoenmakers, Laurier
3.Nathan Cull, Lakehead
Lakehead finished the season in ninth place in the ten-team OUA West Division with a record of 8-16-4 in league play and missed the playoffs for the first time in the teams history. Including non-conference games, the Wolves were 12-18-5 overall.