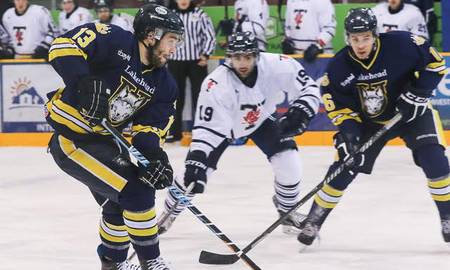 Fri Nov 27, 2015
The Lakehead Thunderwolves were edged 5-4 by the Toronto Varsity Blues in an overtime shootout in front of 2318 fans at the Fort William Gardens on Friday night.
Torontos Patrick Marsh opened the scoring at 5:59 of the first period, but an unassisted goal by Lakeheads Sam Schutt at 7:01 tied the game at 1-1 and brought the stuffed animals raining down from the stands on teddy bear toss night.
The Wolves went ahead 2-1 late in the first when Tyler Kunz fired a rocket from the point past Toronto goalie Andrew Hunt while Lakehead held the man-advantage, with Cody Alcock and Billy Jenkins getting the assists.
The Varsity Blues tied the game at 2-2 early in the second period when Christian Finch flipped the puck over Wolves netminder Devin Green from the top of the crease.
Lakehead regained the lead after Billy Jenkins broke in alone and beat Hunt five-hole at 6:34, but Finch replied for Toronto when he skated around the Wolves defence and rifled the puck past Green on the blocker side.
Later in the period, the Blues took their first lead of the game when Marsh scored from the edge of the crease while Toronto was on the power play.
Lakehead knotted the score at 4-4 early in the third period when Alcock knocked home Jake Wrights rebound, but neither team could capitalize for the remainder of regulation time and the game was headed into overtime.
The first extra period of four-on-four hockey was played relatively close to the vest, but opened up considerably five minutes later during three-on-three play in the second overtime.
The Wolves had plenty of scoring opportunities beginning with a near miss by Garick Gary on an odd-man rush, and shortly after that Alcock rang one off the post.
Later in the second O.T., Torontos Hunt made back-to-back big saves off Alcock and Schutt to send the game into a shootout.
Matthew Campagna scored for Toronto on the first attempt, and that was all it would take as none of Lakeheads three shooters were able to solve Hunt.
Total shots on goal for the game were 52-41 for Lakehead.
The Molson Three Stars of the game were:
1.Cody Alcock, Lakehead
2.Christian Finch, Toronto
3.Andrew Hunt, Toronto
Lakehead picks up a point for the overtime loss, but remains in the West Division cellar with an OUA record of 1-10-2.
The Wolves will look to exact a measure of revenge in the Saturday rematch beginning at 7:00 PM.