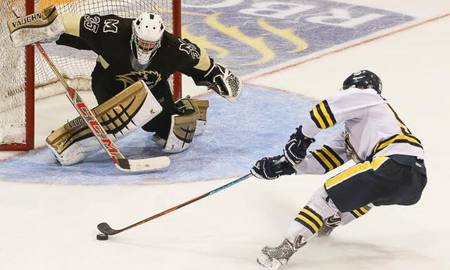 Sat Sep 26, 2015
The Lakehead Thunderwolves found themselves in a hole early on and wound up falling 6-2 to the Manitoba Bisons before a crowd of 2238 at the Fort William Gardens on Saturday night.
Austin McDonald fed Sam Schutt who blasted a slap shot past Manitoba goalie Dayson Sydora just 3:30 into the game to give the Wolves a 1-0 lead, but it wouldnt last long.
Manitobas Warren Callis tied the score less than two minutes later on a screened shot that slipped through Lakehead goalie Justin McDonalds pads, and then two more quick goals by Jonah Wasylak gave the Bisons a 3-1 lead midway through the first period.
Jeff Bosch replaced McDonald in the Wolves net to begin the second period, but two turnovers by Lakehead defencemen resulted in two more goals by Manitobas Brett Brooks and Justin Augert, giving the Bisons a 5-1 cushion just past the halfway point of the game.
Lakehead responded with some good scoring chances, but were unable to solve Bisons netminder Byron Spriggs, who was inserted in the Manitoba goal at the start of the period until Brennen Dubchak converted on a power play with 10 seconds left in the middle frame to narrow the gap to 5-2. Cody Alcock and Carson Dubchak assisted on that late goal gave the Wolves a spark and some hope heading into the third.
Unfortunately, that hope was dashed by Spriggs when he came up with several spectacular saves as Lakehead mounted plenty of offensive pressure in the third period.
Late in the game, Manitobas Brooks scored into an open net after Bosch mishandled the puck to make the final score 6-2 for the Bisons.
Shots on goal for the night were 40-34 in favor of the Thunderwolves.
The Molson Three Stars of the game were:
1.Byron Spriggs, Manitoba
2.Cody Alcock, Lakehead
3.Jonah Wasylak, Manitoba
Lakehead will remain at home next weekend when the Laurentian Voyageurs visit the Gardens for a pair of games. The first match will go Friday night at 7:00 pm, followed by a Saturday matinee with a special 2:00 pm start time.