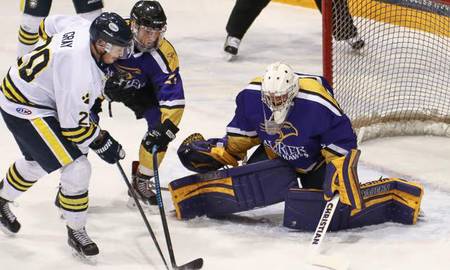 Fri Feb 12, 2016
The Lakehead Thunderwolves fell 2-1 to the Laurier Golden Hawks before a crowd of 1918 at the Fort William Gardens on a frigid Friday night in Thunder Bay.
Laurier goalie Colin Furlong and Lakeheads Jeff Bosch were both sharp in their respective nets in the low-scoring affair, and neither team was able to score in an evenly-played first period.
Garick Gray gave the Wolves a 1-0 lead just 29 seconds into the second period when he beat Furlong from in-close with Justin Sefton and Kelin Ainsworth getting the assists. That turned out to be Lakeheads only goal of the game as the Hawks regrouped and out-chanced the Wolves in the middle frame.
Laurier tied it up at the 7:21 mark when Ryan Lopes swatted the puck past Bosch from the top of the crease.
A penalty for too many men on the ice proved costly for Lakehead as the Hawks converted on the power play with Will Cook knocking home a rebound from the doorstep at 11:36 to take the lead for good.
The Wolves regained the momentum in the third period and controlled much of the play in the final 20 minutes, but were unable to solve Furlong despite several good scoring chances.
Total shots on goal in the game were 33 per side.
On the night, the Thunderwolves went 0-for-6 on the power play while the Golden Hawks were 1-for-2.
The Molson Three Stars of the game were:
1.Colin Furlong, Laurier
2.Jeff Bosch, Lakehead
3.Garick Gray, Lakehead
The loss drops Lakeheads OUA record to 7-16-4 and to 11-18-5 overall.
The Wolves will take on the Hawks again tomorrow night to close out the season.