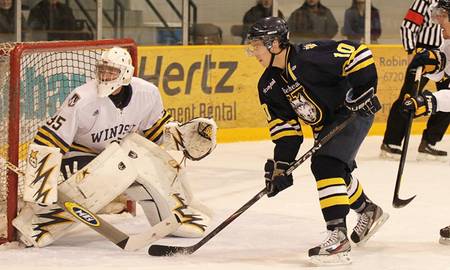 Sat Nov 24, 2012
The Lakehead Thunderwolves lost 7-4 to the Windsor Lancers in a wild one in front of 2723 fans on Saturday night at the Fort William Gardens in Thunder Bay, ON.
Lakehead started off hot and held a 3-0 lead over the Lancers before they had even played ten minutes.
Brennan Menard got things rolling less than a minute into the contest on a breakaway, putting a nice move on Lancer starting goalie Parker Van Buskirk.
Shortly after, Matt Caria went around a couple of Windsor defenders and found Andrew Wilkins in front of the net, and he made no mistake and increased Lakeheads lead to 2-0 at 5:53 of the first. The other assist went to Luke Judson.
Less than a minute later, Wilkins got on the board again after Thomas Frazee found him wide open in front, making it 3-0. The other assist was credited to Trevor Gamache.
Windsor came storming back in what was an offensive opening frame. Drew Palmer beat Wolves netminder Alex Dupuis with a clean wrist shot on the power-play at 9:05, making it 3-1.
Brett Vandehogen then pulled the Lancers to within one as he buried a cross-ice feed that Dupuis had no chance on.
At 2:11 of the second period, Drew Palmer buried his second goal of the game on a shot that Dupuis didnt have much of a chance on, tying things up 3-3.
With Gamache and Kalvin Sagert in the box, Windsor capitalized on a 5-on-3 power-play to pull ahead 4-3 on a goal from Drew Palmer, his third of the game.
The scoring didnt stop there as Spencer Pommels made it 5-3 for the Lancers, again on the power-play at 10:50 of the second.
With a steady parade to the Lakehead penalty box, Evan Stibbard hammered home a shot past Dupuis on yet another 5-on-3 power-play for the Lancers, increasing their lead to 6-3 at 18:57 of the second.
At 5:15 of the third period, Matt Caria made it 6-4 on the power play with a huge blast from the slot. The lone assist went to Adam Sergerie.
Windsor sealed the game with a late empty-net goal from Brett Vandehogen, giving the Lancers a 7-4 victory and the weekend split.
The Molson 3 Stars of the game were:
1.Drew Palmer, Windsor
2.Andrew Wilkins, Lakehead
3.Evan Stibbard, Windsor
Lakehead is off until after Christmas when they take on the McGill Redmen at home.