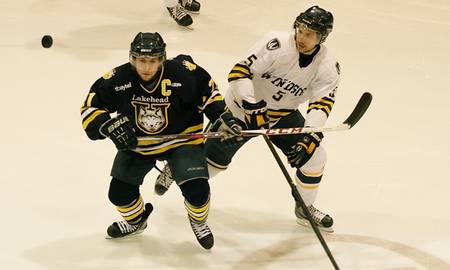 Sat Jan 26, 2013
The Lakehead Thunderwolves four-game winning streak was snapped Saturday night with a 6-3 loss to the Windsor Lancers Saturday night at the Windsor Arena.

Lakeheads Trevor Gamache opened the scoring just over two minutes into the game with a shot that beat Windsor goalie Parker Van Buskirk while the Wolves were on the power play. Assisting on the goal were defencemen Jay Gilbert and Mitch Fillman.

The Lancers replied with a power play goal of their own just past the midway point of the first period when Christian Steingragber beat Lakehead starting netminder Jeff Bosch, and a Matt Beaudoin marker at 15:06 put Windsor ahead 2-1. Fifteen seconds later Fillman fed Wolves forward Victor Anilane who quickly tied the game at 2-2. But Brett Vandehogen put the Lancers back in front 3-2 at 16:53 to round out the scoring in the opening frame, one in which Windsor outshot Lakehead 13-10.

Windsor started out fast in the middle stanza when Beaudoin notched his second marker of the game just 53 seconds into the period to give the Lancers a two-goal advantage. Lakehead called time-out at this point, and Bosch was subsequently replaced by Alex Dupuis in the Wolves net following Windsors fourth goal.

Carson Dubchak set up Jake Carrick who blasted the puck past Van Buskirk at 8:54 to cut the Lancers lead to 4-3, but a minute later former Thunderwolf Jadran Beljo rifled one past Dupuis to make the score 5-3 for Windsor heading into the third period. Shots on goal in the second favored Lakehead by a 14-12 margin.

Steve Ferry added an insurance marker at 8:59 of the final frame, which rounded out the scoring to give Windsor the 6-3 victory. The rest of the game was marred by a lengthy delay after a slew of penalties were handed out after things turned chippy with just over eight minutes left in the contest. The melee ended the night for Thunderwolves Carrick and Dubchak who were served with game misconducts, as well as Gamache and Chris De la Lande after they received 10-minute misconduct penalties.

Windsor outshot the Wolves 14-12 in the third period and 39-36 for the game.

The loss drops Lakeheads OUA record to 14-8-2, and the Thunderwolves remain in sole possession of fourth place in the nine-team West Division.

The Wolves return to the Fort William Gardens next weekend for a pair of games with the Waterloo Warriors to close out Lakeheads home portion of the regular season.