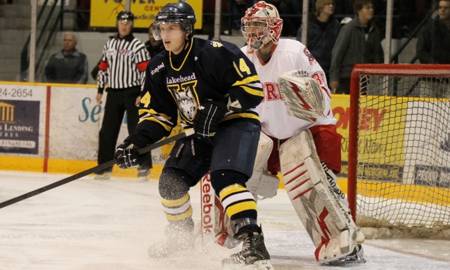 Sat Jan 12, 2013
The Lakehead Thunderwolves fell 4-2 to the York Lions at the Canlan Ice Sports Arena in Toronto on Friday night.

The game began with aggressive play on both sides, and it was Lakeheads Jake Carrick who got the first scoring chance of the game when he rang one off the post. Later in the period, Yorks Tyler McGee was robbed by the quick glove of Wolves netminder Alex Dupuis, and the first period ended without any scoring.

The offence came early in the middle frame when the Lions Jesse Messier tipped a shot from the point past Dupuis on the glove side just 50 seconds into the period while York was on the power play, and then MacKenzie Micks made it 2-0 Lions 33 seconds later when he shoveled the puck past Dupuis from just outside the crease.

Lakehead got on the board at 3:01 when Kalvin Sagert fed Luke Judson with a breakaway pass. The Wolves freshman made no mistake and beat York goalie Andrew Perugini high to the glove side. Then at 18:37, Judson tied the game up at 2-2 on the power play with a wrist shot that found its way through traffic and into the back of the net. Mike Quesnele and Chris De la Lande were credited with the assists.

Messier tallied his second goal of the game to put York ahead 3-2 at 7:41 of the third period when he banked the puck off Dupuis and into the net from behind the goal. That would prove to be the winner, but the Lions added an insurance marker when Mark Cross scored with only 2:23 left in the game, making the final score 4-2 for York.

The loss puts Lakeheads OUA record to 10-7-2, and drops the Wolves to fifth-place in the West Division, two points behind the Lions.

The two teams will square off again tomorrow night beginning at 7:00 p.m.