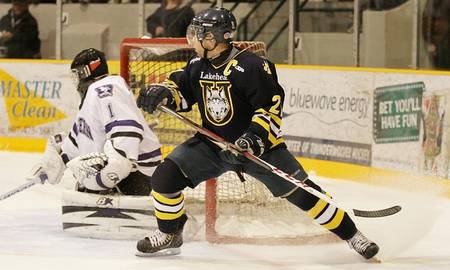 Sat Oct 27, 2012
The Lakehead Thunderwolves lost 3-2 to the Western Mustangs in a tightly contested match on Saturday night in front of 3,320 fans at the Fort William Gardens in Thunder Bay, ON.
The game didnt start off quite how Lakehead would have liked after an emotional win on Friday night.
Mustangs forward Steve Reese put the visiting team in front at 1:45 of the first, beating Lakehead goalie Alex Dupuis with Wolves forward Thomas Frazee in the box for roughing.
Shortly after, Western increased its lead to 2-0 on a strange goal that the referee initially didnt call, but after Lakehead goalie Alex Dupuis appeared to pull something back over the goal line, it was ruled a goal credited to Reese once again.
Western goaltender Josh Unice was very strong between the pipes in the first period, robbing freshman Luke Judson on the doorstep, and stifling the Wolves on plenty of other opportunities.
Unice started the second with more strong play, including a huge save on Matt Caria.
Lakehead got on the board after freshman Mike MacDonald picked up some garbage in front of the net after initially carrying the puck into the zone to start the play. Thomas Frazee received the lone assist.
The physical play picked up in the second period, highlighted by a huge Kalvin Sagert hit on Western forward, and Thunder Bay native, Zach Harnden.
Both goaltenders continued their strong play, with Unice making several key stops, including one on a partial breakaway by Mike Hammond, and Alex Dupuis making several timely saves to keep Lakehead in the game.
The third period saw both teams trade chances, but Reese restored the Mustangs two-goal lead when he found himself alone in front of the net, completing his hat-trick.
Mike Hammond narrowed the margin to 3-2 as he danced in and fired a wrist shot past Unice at 16:08 of the third. Thomas Frazee collected his second assist on the goal.
Unice made a nice save on Frazee just minutes after that proved to be huge for Western, sealing the 3-2 win.
The Molson Three Stars of the game were:
1st Star- Steve Reese, Western Ontario
2nd Star- Alex Dupuis, Lakehead
3rd Star- Thomas Frazee, Lakehead
Lakehead is on the road next weekend to take on the Carleton Ravens in Ottawa.