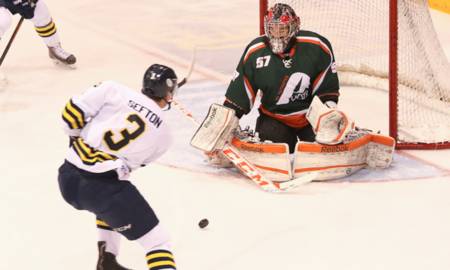 Sat Oct 17, 2015
Despite outshooting UQTR 36-33, the Lakehead Thunderwolves fell 6-1 to the Patriotes at Le Colisee in Three Rivers, Quebec on Saturday evening.
UQTR got on the board early when Mathieu Lemay scored on Lakehead goalie Devin Green just 2:39 into the contest.
Lakehead replied when Tyler Kunz and Kelin Ainsworth fed Billy Jenkins who beat Patriotes netminder Sebastien Auger at 5:52, but that would be the only puck to get past Auger for the rest of the game.
UQTR added two power play goals by Pierre-Maxime Poudrier and Martin Lefebvre to take a 3-1 after 20 minutes of play.
After a scoreless second period, the Patriotes went up 4-1 on a marker from Olivier Caouette at 3:28 of the third.
UQTRs Mikael Langlois and Guillaume Asselin notched late goals to round out the scoring.
The loss drops the Wolves OUA record to 0-2 and to 2-5 overall.
Lakehead will look to get its first win of the OUA season when the Queens Gaels visit the Fort William Gardens next weekend.