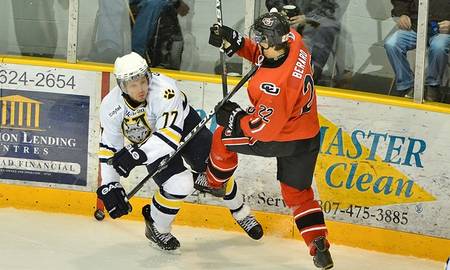 Sat Nov 03, 2012
The Lakehead Thunderwolves hung on to defeat the Carleton Ravens 5-4 Saturday afternoon at the Ice House on the Carleton campus in Ottawa, ON.

After a scoreless first period, Lakeheads offence exploded in the second period for the third time on the road this season. Luke Judson opened the scoring on the power play 6:13, with assists going to Mike Hammond and Thomas Frazee. Adam Sergerie scored just over three minutes later with Lakehead on the power play once again, with Frazee and Mike Quesnele getting the helpers. Trevor Gamache made it 3-0 for the Wolves after being set up by James DeLory and Andrew Wilkins at 14:09, and just over two minutes later, Gamache fed Frazee to give the Wolves a seemingly insurmountable 4-0 lead heading into the third period.

The Thunderwolves fortunes began to change quickly in the final frame. Carletons Joe Pleckaitis broke Lakehead goaltender Alex Dupuis shutout bid at the 3:55 mark, and less than a minute later Shane Bakker scored and suddenly Carleton was back in the game. When the Ravens Jeff Hayes found the back of net at 12:25, the Wolves lead was narrowed to 4-3 and now Lakehead was feeling the pressure. Wilkins responded to that pressure by scoring just 11 seconds later, giving the Thunderwolves a 5-3 lead and a little bit of breathing room. But the air on the Lakehead bench became thinner just over two minutes later when Carletons Hayes notched his second marker of the game to narrow the Wolves lead to just 5-4. But that was all the scoring the Ravens could muster, and the Thunderwolves held on for the win.

Lakehead was 2 for 4 on the power play, and the Wolves penalty killing unit was perfect - successfully defending all five of the Ravens chances with the man-advantage.

With the victory, Lakeheads OUA record improves to 6-3-1 (8-5-1 overall), and the Wolves remain in first place in the West Division.

Lakehead returns home next weekend for a pair of games at the Fort William Gardens versus the UQTR Patriotes.