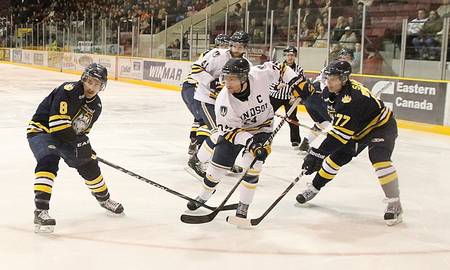 Fri Nov 23, 2012
The Lakehead Thunderwolves beat the first-place Windsor Lancers 4-2 on Friday night before a crowd of 3,091 at the Fort William Gardens in Thunder Bay, ON.
The play was pretty even start to the game, as both teams were playing a cautious at first. It wasnt until Matt Caria chipped the puck past Windsor netminder Parker Van Buskirk at 11:59 of the first that things started to pick up. Mike Hammond was credited with the assist on the goal that caused teddy bears to rain down from the seats for the annual teddy bear toss.
After the delay to remove about a thousand stuffed animals from the ice, the physical play increased - led by Trevor Gamache and Carson Dubchak who delivered some big hits.
Alex Dupuis made a huge save at the end of the period on OUA leading scorer Spencer Pommels to keep the Thunderwolves up 1-0.
Luke Judson increased Lakeheads lead to 2-0 just 35 seconds into the second period on a wrist shot he labeled top corner over Van Buskirks shoulder. The assists were credited to Caria and Hammond.
At 6:36 of the second, Andrew Wilkins danced through a couple of Windsor defenders and put a beautiful pass right on the stick of Trevor Gamache, who made no mistake increasing Lakeheads lead to 3-0.
Windsor got on the board at 12:25 on a shot from Drew Palmer that somehow found its way past Wolves goalie Alex Dupuis.
In the third, Evan Stibbard pulled the Lancers to within one goal on a shot that bounced up and over Dupuis and just squeaked into the net, making it 3-2.
With less than five minutes to go in the game, Trevor Gamache restored Lakeheads two goal lead on a nice feed from Andrew Wilkins, making the final score 4-2 for the Thunderwolves.
The Molson 3 Stars of the gamewere:
1. Trevor Gamache, Lakehead
2. Alex Dupuis, Lakehead
3. Matt Caria, Lakehead
Both teams are back at it on Saturday night beginning at 7:30.